As the economic costs of fraud stretches into the billions, companies and high net worth individuals need sound advice and swift action to protect themselves from dishonest counterparties.
---
Recognised globally for our expertise in civil fraud, asset tracing and recovery actions, Addleshaw Goddard has acted in the most complex, high-profile and reputationally sensitive multi-jurisdictional cases to be pursued in recent years through the English courts, and around the world. We provide pragmatic, commercial advice to guide clients through the most sensitive and challenging crises.
Our lawyers are regularly instructed by clients to develop and execute time-critical legal remedies to track, trace, restrain and recover misappropriated assets, from wherever in the world they have been concealed.
As well as substantive claims, the team is regularly engaged to pursue third-party disclosure orders and freezing injunctions, in order to secure and recover assets.
Our clients include FTSE100 and other multinational companies, as well as high-profile, high-net-worth individuals. Our reach is global, both through our network of offices and through affiliated partners including legal and forensic accounting firms, valuations experts and corporate investigators. We are confident that in virtually every jurisdiction in which assets can be identified, we offer the best-in-class professional advisors.
Working closely with Control, our dedicated integrated litigation finance team, we can structure bespoke financing options to ensure that wrongdoing can be pursued and defended against.
Further expertise:
High-value and complex civil fraud claims, almost universally with cross-border elements.
A unique emphasis on investigations to identify assets and secure admissible evidence. By taking an efficient approach to investigations and, where appropriate, engaging in negotiations at an early stage of proceedings, we aim to achieve swift settlement and recovery, while keeping fees to a minimum.
Reputation management and public relations strategy, insurance coverage advice, employment law, disclosure obligations.
Obtaining and responding to urgent injunctive relief, including freezing orders (and ancillary disclosure orders), search orders, Norwich Pharmacal orders and orders requiring the delivery up of passports.
Seeking and defending committal proceedings and dealing with disputes where Receivership Orders are in place.
Pursuing and defending parallel civil and criminal proceedings.

Cross-Border Asset Tracing and Recovery; Responding to Court Orders for Financial Institutions

"Dedicated team involved in a range of disputes stemming from alleged fraud. Well known for its capabilities both domestically and internationally. Clients include foreign and multinational banks, financial institutions and corporates. Regularly instructed on matters concerning important legal and procedural points, including Court of Appeal challenges." Chambers UK 2020
"They are a good firm and they know their stuff. You know you'll have a sensible and challenging time when you are up against them." Chambers UK 2020
"Addleshaws has a great reputation for civil fraud work. The firm combines two unusual qualities – first, a heavyweight approach that means the firm can support even the biggest cases, and two, a regional network of offices which means that it can price extremely competitively and win the domestic as well as the cross-border work." Legal 500 2020
"Addleshaws always fields a team well-matched to the demands of the case and the needs of the client: they have real strength in depth." Legal 500 2020
"An interviewee says that '[Polly Sprenger is] a specialist fraud litigator and a very able advocate.' 'Her appetite and her ability to seek practical and commercial solutions for her client, using criminal and civil jurisdictions in the UK, are exemplary.'" Chambers UK
Michael Barnett is "very experienced and a very good tactician," according to sources, who also say he is "a shrewd litigator who knows exactly which pressure points to engage on and where to hold back." He frequently acts for domestic and international banks on a wide array of disputes relating to structured finance and investment banking, with experience at all levels of the UK and European courts. Chambers UK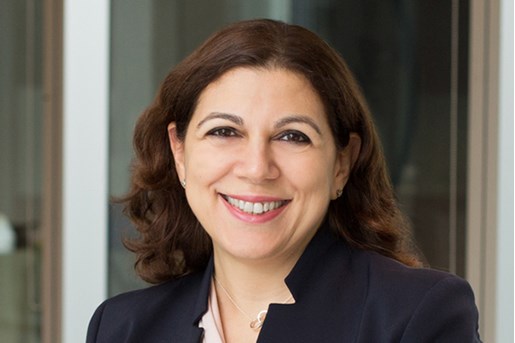 Maria Frangeskides
Partner, Dispute Resolution
London
View profile