Actions speak louder than words

The problems our clients bring us vary. But we solve them with the same, single-minded focus.
See below just some of the examples of how we have delivered impact.


---
Finance, Debt and Funding
Funding the £98M Unfundable Deal

UPP had plans to acquire 2,000 student rooms from developers St Modwen but were told by debt advisers the rooms were unfundable.
We set out to devise a debt funding plan that used senior debt as an overlay to the existing income strip arrangement - a first in the sector.
By avoiding the need to obtain consent from the income strip funders, the debt advisors approved our solution and we helped Swansea University transform a former oil refinery site into a modern campus.
The challenge, impact and imagination
Gold Award in 2019 Public Private Partnership Awards
2,500 rooms added to UPP's portfolio
£63 million new index-linked bond debt created
---
Real Estate – Retail Property Portfolio
70% Faster Property Reviews in the bag for Primark

189 stores. 40,000+ pages of leasehold contracts. 28,000,000 words. When Primark needed to determine the repair responsibilities for its property portfolio, we faced a vast herculean challenge.
And with just two weeks to deliver, we knew manpower alone wasn't enough. Instead, we put technology to work.
Within three days we had deployed a platform that could review the leases, pinpoint essential information and – where necessary – escalate any issues. Saving Primark 70% in time and costs.
The challenge, impact and imagination
189 stores in the Primark property portfolio
28M+ words to scour for relevant information
70% saving in time and costs through using AI
---
Energy – Electricity
How Some High Voltage Thinking Saved our client £110M

When one of the world's leading automotive companies purchased a large plot of land to build a new state-of-the-art facility, it quickly became clear that there wasn't enough power to support their growth plans without paying a heavy price.
We were asked to provide alternative solutions that were more cost-effective and operationally practical than connecting to the distribution network.
With some imaginative thinking, we helped our client connect directly into the main transmission network, saving 8+ years of management hassles and a decade of development headaches.
The challenge, impact and imagination
£110M saving from connecting to the transmission network
10 years of sequencing and stress cut to less than 12 months
10,000 volts of energy available with a signature and a spur
---
Transport – Rail
Developing a Ground-Breaking Approach to Leader Formation

The standout General Counsel of tomorrow needs more than legal knowledge alone. We worked collaboratively with Network Rail to co-create its GC Readiness Programme, a genuine world first.
We worked hand-in-hand with 9 senior members of the team to develop a revolutionary methodology that fused ancient schools of thought and cutting-edge, lawyer-specific learning.
We provided new ways to frame the challenges and opportunities they face and enable them to develop new solutions that positively impact Britain's critical rail infrastructure.
The challenge, impact and imagination
20,000 ground-breaking legal precedent
30,000 bridges, tunnels and viaducts
3 disciplines combined; neuroscience, psychology, the greatest wisdom traditions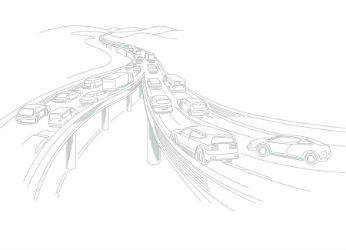 ---
Complex Commercial Transactions
Imagine if old rivalries became new opportunities

It's a tough world for automotive brands. There are traditional challenges such as financial pressures and regulatory scrutiny. And now a whole new wave of threats – from automation to electric vehicles. We've played a pivotal role in enabling two of the world's largest players – Volkswagen AG and Ford Motor Company – to gear up for the future, together.
We've helped to shape a strategic alliance that will see both brands work hand-in-hand to develop vehicles and share investments in innovation and technology, including new electric cars. It's a collaboration that's grabbed the headlines. But behind the handshakes is a hugely complex transaction spanning every step in the supply chain.
To forge this alliance we had to get to grips with the intricacies of build and distribution. And we had to think through every eventuality – the logistical challenges, the legal and commercial risks, the details of IP, jurisdictions, litigation and (if the worst happened) termination. But, after months of hard work, the first agreements have been signed.
In almost every market, from automotive to finance, manufacturing to retail, technology is disrupting the norm. To survive and even thrive, leaders need to be prepared to change. And agreements, like this one, could just be a sign of things to come.
Did you know?
In the last 2 years we've acted for many of the world's most recognised and respected companies – including over 40 FTSE 100 companies. We're proud to act for remarkable clients such as BNP Paribas, CBRE, GlaxoSmithKline, Multiplex, Oman Investment Corporation, RBS, Sainsbury's, Terra Firma, and many more.
---
Fintech & Payments
Imagine if you could reinvent money

These days, most of us take contactless payments for granted. But behind every transaction is a complex web of legal, regulatory, financial and technical issues. How can you embrace this technology while minimising risk? How can you balance the value of data with the importance of customer privacy?
When Apple Pay was launched, we helped a number of major banks and credit card providers navigate these complexities. Against tough timescales, we drew on our broad experience of delivering fintech projects to help our clients assimilate this change into their systems and processes, seamlessly. It took just two months to go from first contact to contactless.
We've since worked with Samsung, Android, Google and Microsoft on similar roll outs. And today, we continue to partner with the world's fintech innovators. Who knows what's around the corner – but whatever it is, we're ready.
Did you know?
Last year, AG acted for 738 financial services companies and funds around the world.
We advised on the largest consumer credit remediation programme in the UK market.
---
Transport & Infrastructure
Imagine if you could connect countries

At 18km long and €5bn in value, the Fehmarnbelt Tunnel is one of Europe's biggest infrastructure projects. Once completed it will be the longest immersed road and rail tunnel in the world, creating a new link between Denmark and Germany. But getting the work off the ground (or under the sea) has been a hugely complex legal challenge…
The project is being procured by our client, the Danish Government owned company, Femern A/S. Working for them, our first step was to help design the bidding process to select contractors. The sheer size of the project meant several construction contracts were let, with bidders comprising consortiums from around the world.
AG prepared bespoke contracts, including mechanisms to ensure different contractors work collaboratively. The contracts are in English, and clarity of expression was key, given the involvement of parties from many different jurisdictions. All contracts have also been designed to "speak to" each other - using the same provisions for ease of contract management in case future disputes involve several contracts - despite the diverse subject matter ranging from dredging to concrete production to electrical installations. All of this required flexibility and imagination.
After many years of legal groundwork, construction of the tunnel is due to start soon. With completion targeted for 2028, we know a long road (and plenty of legal legwork) lies ahead – but there's definitely light at the end of the tunnel.
Did you know?
We advised on the largest and most innovative rail franchising contract let in Europe, a multi-billion pound, 12-year deal.
---
Real Estate
Imagine if you could awaken a giant

Battersea Power Station has been one of the great 'will they / won't they?' stories of our time. An iconic landmark on London's South Bank, it lay vacant and unloved for over 40 years. Redevelopment seemed a distant dream. But now all of this has changed.
Acting for the Battersea Power Station Development Company, we helped negotiate the two deals that have been critical in bringing this landmark back to life – and revitalising the entire area. First, we negotiated a pre-let agreement with Apple to take on half a million square feet of office space in the former power station. Then we acted on the corporate and real estate elements of the sale of the site for £1.6bn to Malaysian investors.
Securing both deals during the uncertainty of Brexit took months of proactive, pragmatic negotiation – not to mention a fair few air miles to Apple's HQ in Cupertino. The result? A white elephant given the green light. At last.
Did you know?
Addleshaw Goddard (AG) was named Real Estate Team of the Year at The Lawyer Awards 2019.
AG is 1st in terms of number of FTSE 100 companies represented for real estate work.
---
International Arbitration
Imagine if the gloves had to come off

Our client, an established cosmetics distributor, had the extremely valuable rights to distribute a global beauty brand. The brand was purchased by a global cosmetic giant, who wanted to take the distribution in house but, instead of negotiating, alleged breaches of contract and sought to simply seize control. Our client vigorously rebutted the business-critical claims and asserted its rights. The global giant did not want to listen, and hired US litigators to railroad the issue – which is when our phone rang.
Our response? We injuncted the attempts to seize control, arranged a litigation funding package, and then took the fight to the other side's back yard, culminating in an arbitration in Los Angeles. The outcome? A categorical vindication of our client's position - the Tribunal concluding that our client's opponent "did not act in good faith" and had been "misleading" in its dealings.
Amicable negotiation is always the first choice, but when the gloves come off, you need robust litigators with a focused strategy to fight your corner. And that's exactly what we do.
Did you know?
We've been at the forefront of litigation finance since 2008; our CONTROL product has supported over 180 cases involving CFAs (conditional fee agreements), DBAs (damages based agreements) or third party funding, frequently with support of 'after the event' (ATE) insurance.
We've represented major clients in arbitrations seated in Abu Dhabi, Abu Dhabi Global Markets, Beijing, Bucharest, California, Doha, Dubai, Dubai International Financial Centre, Edinburgh, Geneva, Hong Kong, London, Milan, Muscat, New York, Paris, Qingdao, Shanghai, Singapore, Stockholm, Thailand, Vienna and Vietnam.
---
Private funds
Imagine if the end was a new beginning

The Abraaj fund management scandal sent shockwaves through the global markets. A failure of epic proportions, The Economist dubbed it 'the biggest collapse in private-equity history'.
In mid-2017, Abraaj was managing over $14bn of assets, spanning Africa, Asia and Latin America. Fast forward six months and its reputation was in tatters, its founder (Mr Naqvi) was in prison, and the liquidators were knocking at the door.
But out of crisis comes opportunity. Our Private Funds Group helped our client, Actis, take over the management of four funds – with assets under management of circa $4bn.
Securing that kind of deal was anything but easy. We had to bridge a complex gap between liquidator and incoming manager, gain agreement from 150+ investors, work across multiple time zones, and draw on all our multidisciplinary expertise.
12 months on and the dust has settled, the funds are being successfully managed, and investors can look forward with renewed confidence.
Did you know?
We've helped clients in 94 countries in the last three years, via our 12 offices around the world.
Named PE Advisor of the Year 3 times in 4 years (Real Deals).
---
Business Support & Restructuring
Imagine if you had one shot to save a business

Most insolvency transactions are the perfect storm – high on complexity, low on time. But sometimes, you get a situation that's an absolute whirlwind, when you need a calm hand, a wise head and the confidence to act – and fast.
When private equity investor, Endless LLP, wanted to purchase the business and assets of Europe's largest golfing retailer, American Golf, time was incredibly tight. We had just 48 hours to pin down the details on everything from gift vouchers to custom fit golf clubs. Together with the sell-side lawyers, we negotiated face-to-face, day and night, to hammer out the particulars.
Two days later, 900 jobs had been saved, 85% of stores were still open, and American Golf's loyal customer base was retained. For our client, it was an exciting new beginning. For us? Just par for the course.
Did you know?
Last year, AG acted for 480 well-known consumer brands and retailers.
We were the official legal adviser to the 2019 UCI Road Cycling World Championships.
---
Energy
Imagine if change was in the pipeline

In the west of Northern Ireland, old fuels are giving way to a future powered by natural gas. But getting there has taken ingenuity, innovation and a fresh approach to investment. After all, when Scotia Gas Network (SGN) first instructed us, the groundbreaking 'Gas to the West' project was still a pipe dream.
To make their vision a reality, SGN and their bid partner, Mutual Energy (Mutual), faced multiple challenges. They'd been awarded high and low pressure gas licences from the Utilities Regulator. Now they needed funding for infrastructure not yet up and running. Getting that funding ahead of pre-construction completion was crucial to be able to take advantage of competitive lending rates – and to secure savings of over £50m for Mutual's customers.
This novel approach to procurement needed a novel next step. So we thought long-term and worked creatively, drawing up a forward thinking agreement between SGN (responsible for the design, build and initial funding) and Mutual (the high pressure licensee and owner) with bespoke provisions to future-proof both parties' financial interests.
A few years down the pipeline and Gas to the West is well under way, creating 200 jobs, supporting 40,000 customers and bringing benefits that will last for 40+ years.
Did you know?
AG has a track record of firsts in energy. For example, we acted on: the largest smart metering deal in Europe; a petrochemical giant's first global entry back into the renewables market; the two largest solar and wind developments in England; the first bio-methane project and the first bio-mass project in the UK; the only UK government-mandated fund investing in electric vehicles; and one of only 2 at-scale carbon capture projects in the UK. AG also advised the UK energy regulator, Ofgen, on its policy for the UK's first off shore transmission rounds.
---
Corporate Banking
Imagine if you could build an empire

Growing a world-leading business takes a rare combination of skills: vision, insight, the ability to spot an opportunity, and the determination to follow it through. But, even with all of this, one vital thing is needed: the capital that turns dreaming into doing.
For five years we helped health, beauty, fitness and lifestyle company The Hut Group make their ideas a reality as they grew from disruptor to global powerhouse. Our Corporate Banking team worked hand in hand with their Head of Treasury from the early days of the company, advising on both the big picture and the little details behind their borrowing. Not just saying 'yes', but also 'here's how'. That culminated in a recent leap forward: arranging a new $1bn banking facility.
Today, THG is renowned as one of the UK's most valuable privately-owned companies with 100+ brands, 4000+ employees, and operations from Poland to the US. And, with $1bn to draw on, the company is ready for the future.
Did you know?
AG facilitates debt capital transactions across multiple industries. For example, we act for the funders to every one of the UK's top 300 housing associations, helping them raise over £75bn of debt from institutions and the debt capital markets. We have been ranked by independent directories as the number 1 funders advisor nationally - ahead of all other major firms - for each of the past 12 years.
---
Dispute Resolution
Imagine if long and complex could become plain and simple

Defending a client should always mean going above and beyond. Not just fighting a corner but, where necessary, rewriting the rules of the game. Especially when your client gets hit with a £50m+ claim.
In this landmark case, our client, a FTSE 100 company, faced a software licensing dispute with a Fortune 500 technology group – and we needed to think laterally. Things came to a head when the opposing side sought full disclosure of every single document relating to recent IT projects. Bringing to the court huge volumes of records, including highly complex R&D, would have taken several servers and roomfuls of reference material. Not to mention a staggering amount of management time and legal fees - in the region of £1m-£2m. Instead, we developed an imaginative alternative that would bring clarity and cut costs.
We switched the angle of attack and pioneered an industry first – fighting this software licensing case from an Intellectual Property law perspective. Pooling knowledge from Counsel, industry experts and our UK-wide Dispute, IT and IP legal teams, we applied IP law techniques to a IT licensing claim and distilled all the documents relating to the client's IT system down into a single 'product process description', combining principles of patent and copyright.
This transformative approach to disclosure was hugely effcient and, ultimately, highly effective. In this legal battle between two major, global organisations, our client was able to settle the case confidentially and save millions on the claim, including legal expenses, time and risk. Plus, we've established a new way of working, bringing clarity to this complex area. All in all, a patent success.
Did you know?
AG was named Dispute Resolution Firm of the Year 2019 at the Legal 500 Awards.
---

Real Estate & Technology
Imagine if you had 10,000 properties in the palm of your hands

They say selling a property is the single most stressful thing most of us will ever do. But what happens when you've got around 10,000 properties as part of a £13.8bn business on your hands? When National Grid wanted to sell its interest in the gas distribution network, we had to ready its assets: the sites it owned. But preparing a portfolio of that scale was no mean feat for all concerned.
There were few linked-up property records for the many thousands of sites, which ranged from large-scale offices to roadside gas governors – and digital deeds were even rarer. So, in tandem with the specialists at the client, three other firms and a GIS specialist, we began by categorising the properties for sale and drawing up a comprehensive map of them all, linking each site to its deeds. Then, as the co-ordinating firm, we created a bespoke digital portal and app that put all sites in our client's hands. For the 400+ individuals working on the project it meant they had thousands of records, templates and documents at their fingertips.
This pioneering approach had never been used on this scale before. And the impact was far-reaching. We've been able to transfer all key assets to a Special Purchase Vehicle (SPV), later known as Cadent, and save our client an estimated £1m in legal fees – including trimming £40k in postage costs. After all, sending documents for 10,000 properties to the Land Registry… that's a lot of stamps.
Did you know?
With a specialist group of technology experts, we've provided legal technology advice and support on projects for over 700 companies, for example using artificial intelligence, workflow or contract management tools.
---
TRANSPORT AND LOGISTICS – PORTS
PORTS PARTNERSHIP UNLOCKS GROWTH POTENTIAL FOR AFRICA'S ECONOMY
Africa has a sixth of the world's population. But it accounts for just 4% of global containerised shipping volumes. The reason? Insufficient port capacity.
The new partnership that we helped forge between ports giant DP World and British International Investment (the UK's development finance institution) will help address this, investing in ports and logistics around the continent.
In doing so, it will unlock Africa's trade potential, creating 138,000 jobs and giving 35m people better access to vital goods and food supplies.
THE CHALLENGE, IMPACT AND IMAGINATION
US$1.7bn investment platform
$51bn forecasted addition to total trade by 2035
35m people will enjoy improved access to goods
138,000 jobs will be created
---
INTEGRATED LEGAL TECHNOLOGY TACKLES LIBOR CHALLENGE FOR VIRGIN MONEY
Like other major banks, Virgin Money had to amend thousands of commercial loans in record time to tackle the LIBOR transition compliance deadlines. The most efficient solution? A ground-breaking integration of five legal technology platforms.