When criminals target corporates, either from outside or inside the organisation, law enforcement is often slow to react. Companies and industry groups can use private prosecutions to help themselves.
---
Even before the global pandemic that spawned outbreaks of fraud around the globe, public law enforcement agencies, were struggling to devote resources to help corporate victims of crime. The UK centralised command centre for collating reports of fraud, ActionFraud, was the subject of an undercover investigation by journalists in 2019, followed by a Home Office review in January 2020 which found that:
fraud accounts for one in three of all crimes committed;
2000 fraud offences are committed every day in England & Wales, but just one in 50 is prosecuted;
less than 1% of police officers directly investigate fraud.
Private prosecutions can send a powerful message that your company will not tolerate crimes committed against it or its employees. In England and Wales any person, organisation or company is entitled to bring a private prosecution against another party. Businesses can commence criminal proceedings against people who have committed crimes, including fraud, against them, or in relation to criminality of which they are aware, even if they have not suffered the loss. All criminal remedies – including custodial sentences, disqualification orders, financial penalties, confiscation and compensation orders – are available. Whether or not the defendant is convicted, if it was "proper and reasonable" to bring the prosecution, the court will order the payment of the private prosecutor's reasonable litigation costs, including legal fees. If these can not be recovered from the defendant, they can be recovered from public funds.
The process – if pursued correctly – can also be more efficient and effective than action taken by public law enforcement. It allows the corporate as prosecutor to draw on experienced, professional and trusted investigators and lawyers to navigate the UK criminal justice system and take successful action to deter criminal activity, bring wrongdoers to justice and protect its brand.
Our team at Addleshaw Goddard has experience in both bringing and defending private prosecutions, as well as liaising with law enforcement in the first instance to push for public assistance. Our private prosecutions team helps clients navigate the whole process from advice and investigation through to criminal and/or civil proceedings and any asset tracing, confiscation and enforcement.
Often when launching or defending a private prosecution there is an intricate mix of criminal, civil and regulatory issues across one or more jurisdictions. Our team works closely with both criminal and civil lawyers, led by the SFO's former Head of Strategic Intelligence. This unique blend of expertise means we know which avenues are worth investigating and how to get the right results in highly complex cases. Clients value our efficient and effective approach.
Working across all types of corporate and financial misconduct, including fraud, theft and corporate espionage, across all industries as well as the charity sector, we have a broad worldview, and help the client balance the legal, reputational and regulatory risks.
Recent highlights include:

Representing a UK manufacturing company on bringing a private prosecution against former executives who allegedly defrauded it through false invoices paid into sham bank accounts.
Launching a private prosecution against individuals and corporations in a $290 million fraud involving money flows between CIS countries, Cyprus and the BVI. The matter was ultimately referred to the Cypriot Attorney General.
Advising litigation funds on the first efforts to fund private prosecutions through third party funding.
Acted for a large US corporate in a criminal investigation and private prosecution against suppliers who had defrauded it of £3million by exploiting loopholes in its global trading platform. We conducted a cross-border investigation, UK prosecution and asset recovery and worked with overseas law enforcement.
Advised a US investment fund in relation to a potential private prosecution for conspiracy to defraud the fund of $15million, conducted extensive multi-jurisdictional asset tracing and obtained orders freezing the assets of seven defendants.
Advised a global commodities firm in relation to (1) bringing a private prosecution against an individual for perverting the course of public justice and (2) defending it against a false criminal complaint brought against it to detain its executives.
Assisted the retail energy industry to bring private prosecutions against defendants for electricity theft where police inaction had led to the offence going unpunished.
Defended partners in a global law firm accused of fraud by a vexatious litigant who was subject to a civil anti-suit injunction.
Worked with local and national law enforcement agencies in relation to European Distribution Fraud and advised client on potential private prosecution.
Conducting a full criminal investigation of a corrupt conspiracy between executives and contractors on behalf of a US client, culminating in a police investigation and prosecution.

COVID-19 and private prosecutions: government-backed lending and stimulus fraud; Protecting your brand through private prosecutions; Using private prosecutions to combat insurance fraud; Private prosecutions for the energy industry; Private Prosecutions: Criminal Cases for Corporate Victims of Crime; Private Prosecutions: A Solution to the Insurance Fraud Problem; Responding to Court Orders for Financial Institutions

"Former head of strategic intelligence at the SFO, Polly Sprenger is noted for her private prosecutions and fraud investigations practice, with expertise in the retail and hospitality industries. An interviewee says that "she's a specialist fraud litigator and a very able advocate." Another adds: "Her appetite and her ability to seek practical and commercial solutions for her client, using criminal and civil jurisdictions in the UK, are exemplary." Chambers UK
"Having worked more closely with Polly Sprenger over recent months, we've been impressed by her depth of knowledge in Financial Crime / Fraud related matters, specifically where the case involves an ongoing criminal prosecution. Polly is able to clearly articulate the legal position and provide a practical way forward, whilst being approachable and very easy to deal with on a personal level." – In-house Legal Counsel, Litigation, UK bank
"We consulted Polly and her team having become aware of their expertise advising on the intersection between criminal and civil processes. She was accessible and responsive to our need to identify a creative solution to a complex and multi-jurisdictional matter, involving the recovery of misappropriated assets. She worked closely with our internal team to craft a strategic path to our defined objective. We will not hesitate to use Polly and her team again, and to recommend her to our clients." – Global Litigation Finance and Funding provider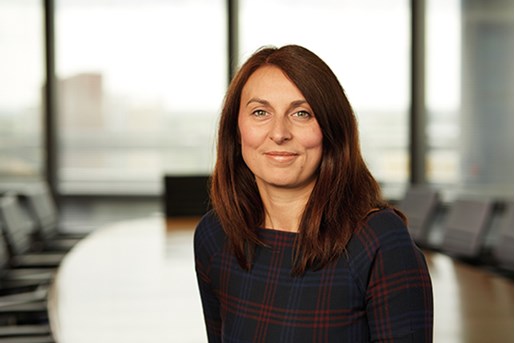 Erin Shoesmith
Partner, Health & Safety United Kingdom
View profile