'CHECK-IN with AG' is a bi-annual hospitality bulletin bursting with recent developments, industry insights and practical tips about legal and commercial issues relating to the hotels sector. Download the Spring edition of the 2017 bulletin below.
---
In our first edition (Spring 2017), we cover:
'Hot' topics and trends emerging from seminars and discussions at IHIF 2017, including the explosive growth of hotels, hybrid hotels, 'bleisure' and alternative concept hotels
Poll results taken at AG's annual hotels seminar
Tax commentary on some of the consequences on the sector from the 2017 Spring Budget on the industry, focusing on business rates and amendments to rules relating to the restriction of corporate interest deductions
High level issues to consider on hotel investment anywhere in the world
The effect of political uncertainty on the hotel investment market in Scotland around Indyref2, the perceptions this has for certain investors and how these perceptions have in some respects been trumped
Legal issues stemming from the explosive growth of online home sharing platforms, the first of a series of articles on the topic
Details of some key industry networking events and seminars over the next year (2018)
Download the full bulletin in PDF format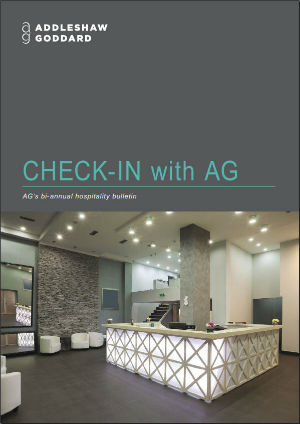 Our Hotels & Leisure team hopes that you enjoy reading our sector bulletin. If you have any comments or queries on any of the articles, please get in touch. You can also find a full list with our team members' contact details on the last page of the bulletin.