Our team comprises leading practitioners with a breadth and depth of experience in financial services investigations and enforcement
---
We have advised firms and individuals in many of the most high profile investigations by the Prudential Regulation Authority (PRA), Financial Conduct Authority (FCA) and Payment Services Regulator (PSR) leading up to and since the financial crisis of 2008. Our team also has deep experience of managing s.166 Skilled Persons investigations, conducting internal investigations, remediation and past business reviews, and advising on independent public reviews.
Our lawyers have extensive experience and understanding of the regulators' approaches, expectations, strategic objectives and wider market activity.
We are able to provide cost effective resource drawing on our large team in London and other offices, as well as our specialist e-data review team, TST.
We work closely with our specialist teams in corporate crime, financial regulation, compliance consulting, employment, finance litigation, competition and data privacy to deliver a seamless service drawing on the particular expertise that you need to address and resolve an issue in full and from all perspectives.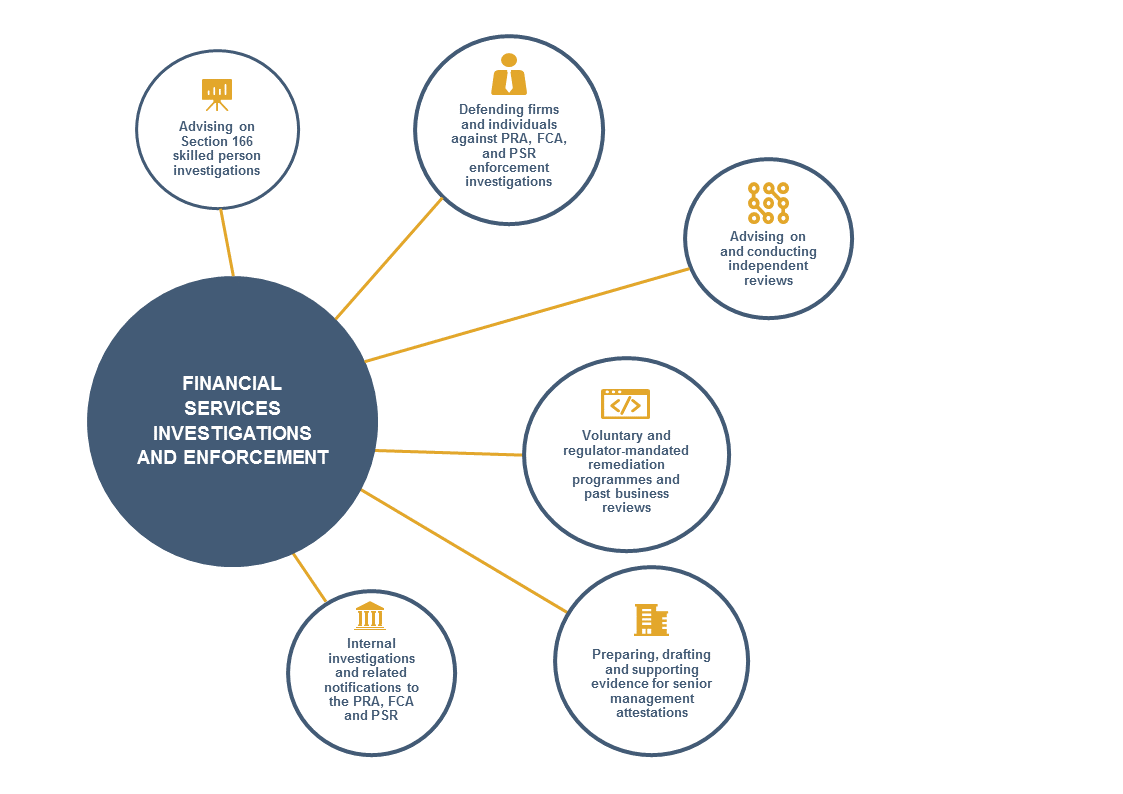 Our subject matter expertise includes advising on:
market abuse investigations and risks, including under the European Market Abuse Regulation; AML systems and controls; LIBOR and foreign exchange benchmark manipulation; remuneration adjustment under the Remuneration Codes; culture and governance; client money and assets (CASS); complaints handling and Financial Ombudsman Service complaints under DISP; suitability of investment advice and disclosure of information under COBS; conflicts of interest; regulated mortgage lending under MCOB; and PRA and FCA notification rules including SUP 15.
We have advised clients across the financial services industry including:
wholesale banking, wholesale trading, private wealth management, custody services, retail banking, insurers and insurance mediators, pension providers, retail and SME lenders, institutional asset managers, investment platforms, payment services and e-money firms, fintech firms, challenger banks and listed corporates.
Defending FCA investigations brought against a number of corporates alleged to have committed market abuse (including a number of 'twin track' civil and criminal investigations) and to have breached the European Market Abuse Regulation by delaying the disclosure of inside information.
Acting for investment banks being investigated in relation to interest rate and foreign exchange benchmarks.
Acting for a bank alleged to have breached FCA Principles in relation to a derivatives trade.
Acting for a bank in an investigation by the Payment Systems Regulator.
Advising a bank on the conduct of performance adjustment investigations into accountable individuals in accordance with the Bank's policies and the FCA/PRA Remuneration Codes.
Advising on a series of internal investigations and associated regulatory reporting, for example into alleged AML breaches and mis-marking/circumvention of internal controls, conflicts of interest, cybersecurity breaches, and SME lending.
Acting for a major UK retail bank in respect of regulatory and complaints handling issues, and a past business review, into its sales of fixed rate loans to businesses.
Advising an asset management firm on an internal whistleblowing investigation.
Advising a bank on an independent non-executive director review into errors in capital calculations and related systems and controls.
Acting for a global investment bank on an FCA investigation into corporate banking AML systems and controls.
Advising a global wealth management bank on regulatory issues, litigation and FOS complaints handling arising from sales of tax efficient film partnership investments.
Acting for an independent reviewer reviewing a bank's capital shortfall

Financial Crime Know How training slides; Whistleblowing; AML Systems and Controls, Regulatory developments SMCR extension
For help responding to the rise in whistleblowing complaints in the wake of Covid-19, see our webpage Listening for the Whistle

"Excellent and thoughtful, dedicated team." Legal 500
"Complete and seamless joined-upness between specialist teams." – Legal 500
"The ability to produce concise advice notes in short timescales is extremely helpful." – Legal 500
"David Pygott has a very obvious enthusiasm for dispute resolution law, and is able to combine this with a wealth of experience in the area to solve complex problems." – Legal 500
"David Pygott has phenomenal knowledge of financial services regulation; close attention to detail; is devoted to client service; and determined to get as good a result as possible." – Legal 500
"David Pygott and Sarah Thomas are bright, personable and give succinct advice" – Legal 500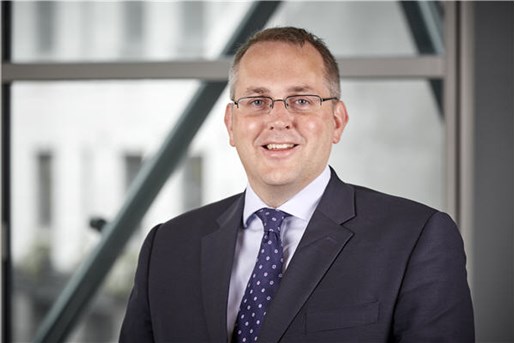 David Pygott
Partner, Global Investigations
London, UK
View profile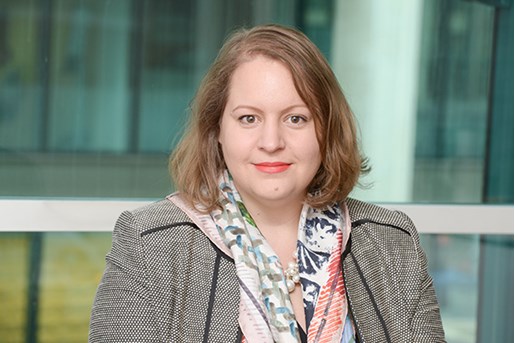 Sarah Thomas
Partner, Global Investigations
London
View profile
Further expertise: