What is modular construction?
---
In the past, modular construction has been described as prefabrication, or off-site construction. The modular process entails entire rooms being pre-built in a factory and then craned into the building. The UK government is particularly interested in modular construction, in its aim to construct more homes to keep up with population growth. The term modular construction has been described as the 'buzzphrase' of the UK housing industry. Recently, however, several hotel chains have also welcomed this innovative approach into the construction of hotels, which has numerous benefits.
The benefits of modular construction
The potential for cost savings in modular construction is one of its main advantages as compared to traditional construction. Recent cost estimates suggest that modular construction could be 10-20% more cost effective than traditional methods. This is as a result of the significantly reduced project length and the fact that modular companies can mass produce the units, as the rooms do not have to be redesigned each time. The reduced time frame is also beneficial to developers, as they can market the property earlier thus incurring reduced finance charges. Richard Farrar of Leaf Hospitality is a fan of the modular process, and notes that the key to modular construction is two fold (i) the time saved during construction, and (ii) the consistency of workmanship within the modules – if the right contractoris used, snagging time is heavily reduced.
Contractors are attracted by the greater health and safety benefits gained from having less heavy and time-consuming construction work occurring on site and the fact that logistical obstacles are reduced. This is especially prevalent in inner-city sites, where space can be tight and storage space limited. Another key benefit is that less waste is associated with this form of construction, as the off-site assembly promotes an efficient use of building materials in a controlled manufacturing environment, resulting in reduced waste.
"To ensure bespoke quality in each pod, have a good designer and ensure effective due diligance throughout the design process. Once the design is done, check your sample room/module before mass production. Even if that means going to China..."
Richard Farrar, Head of Leaf Hospitality
Modular construction of hotels
This type of construction is already popular in Sub- Saharan Africa and the USA. Marriott, in particular, have made a significant investment in modular technology in the construction of their new hotel rooms. In the UK, hotel chains have also started to adopt this new approach to construction, given its numerous benefits. A delevoper has recently partnered with modular provider CIMC to construct a hotel at Bristol Airport, (which will be branded under one of the Hilton Worldwide brands) formed from modular pods built in the factory in China and then shipped to the site for assembly.
Lionel Benjamin of Topland Group was involved in the construction of Holiday Inn Express Manchester, the first hotel in the North-East of England to be made entirely of pre-constructed pods. Speaking about the project, Lionel explained that the carbon footprint in this method
of construction is reduced and that the green credentials associated with the hotel is something Topland is especially proud of. As a self-proclaimed advocate of modular pods, Lionel has praised the reliability, safety, security and speed of construction.
Travelodge Hotels Limited have also utilised modular construction in some of their hotels, and have noted the time, cost and quality advantages of this approach for schemes with over 80 bedrooms.
Lionel anticipates that modular construction will continue to increase in popularity in the construction of midscale economy hotels. Leaf Hospitality plans to have 20 hotels under management by 2025 and envisages the majority, certainly of new builds, being constructed by modules. Richard Farrar has commented that he sees modular construction of hotels soon surpassing traditional building methods as long as the practicalities of modular construction can be overcome. Practical issues facing modular construction include ensuring that the site allows for it and there is plenty of access to place the modules in the appropriate locations, as swinging modules around existing structures can be tricky.
"Modular construction will continue to increase in popularity in the construction of midscale economy hotels."
Lionel Benjamin, Topland Hotels
Download the full CHECK-IN with AG bulletin in PDF format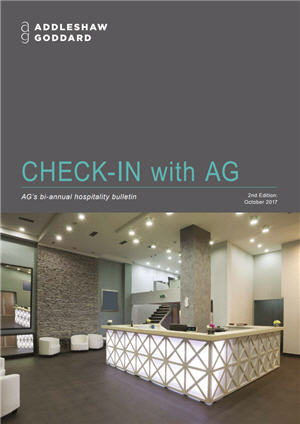 If you have any comments or queries, please get in touch.