Expertise
Bill is a Partner in the Commercial Disputes team. He specialises in heavyweight disputes. He has particular expertise in the management and resolution of major project disputes, claims arising from the sale and purchase of businesses, procurement challenges and the resolution of large scale business-critical supply/JV disputes.
Bill has an enviable track record of success in disputes and arbitration, together with all forms of alternative dispute resolution (ADR), including expert determination, negotiation and mediation.
He acts for national and international clients in a wide range of fields and has considerable experience of advising both private and public bodies in a range of sectors, including transport, health, utilities, retail and technology.
Bill's experince includes:
advising private and public sector organisations on complex and/or critical issues, including the management, re-negotiation, default and termination of major contractual relationships
assisting clients operating within both national and global supply chains on a range of issues, ranging from multi-million pound warehousing and distribution project turnarounds to breaches concerning critical component/materials
supporting suppliers and customer organisations on resolving large scale IT and outsourcing disputes, often relating to changes in specification/scope, project delivery delays and performance failures, using escalated dispute resolution processes, negotiation, mediation, expert determination, arbitration and Court proceedings
acting for a wide variety of contracting authorities and utilities, as well as bidder clients, on procurement challenges and achieving successful outcomes, by way of negotiation, strike out/summary judgment and swift partial re-run. Also advising "behind the scenes" on highly sensitive procurement issues. Recent matters include advising as lead law firm to the Department for Transport in the 2019 Rail Franchising Litigation and advising HS2 in its dispute with Bechtel, with entirely successful judgments in 2020 and 2021 respectively
advising private and public sector organisations on complex and/or critical issues, including the management, re-negotiation, default and termination of major contractual relationships
The Society for Computers and Law

"Bill Gilliam's sector knowledge is really useful - he has commercial awareness and business acumen."

"He is a creative legal thinker and brings forth good ideas."

Chambers 2021

"Bill Gilliam is the best solicitor that I have ever worked with. He has first class judgement, provides great leadership to his teams, deploys his knowledge of the law and the commercial needs of his client to great tactical effect and is a pleasure to work with."

Legal 500 2021

"Bill Gilliam is a highly respected commercial litigator, known for representing major corporate clients in relation to contractual disputes, including supply chain issues. He also handles shareholder disputes. 'He provides a common-sense view of complex matters,' a client says, adding: 'His ability to understand the situation and tune in to the detailed nature of any legal matter is very impressive."

Chambers 2020

"Bill Gilliam is a very impressive partner in commercial litigation."

"Bill Gilliam is a market leader with detailed knowledge of procurement law in particular and a pleasure to work with."

Legal 500 2020

"Sources hold Bill Gilliam in high regard, stating that 'he gives clear legal advice and is willing to go the extra mile for the client', further noting that he is 'a very good strategist'. He represents a range of high-profile clients in varied commercial litigation and is particularly highlighted for his expertise in IT disputes."

Chambers 2019

"Bill Gilliam is a stand-out solicitor - a fantastic technical lawyer but also commercial and practical."

Legal 500 2019
---
Resources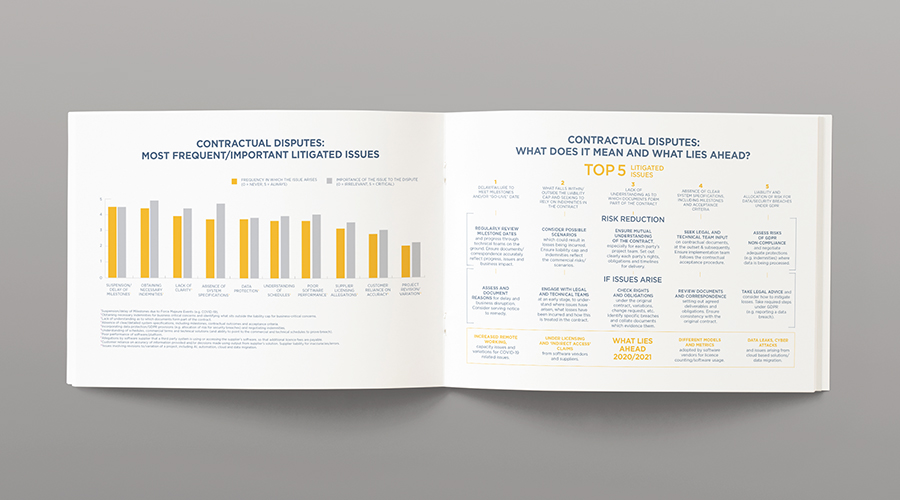 Software under licensing
We have seen several of the major IT suppliers seeking to make multi million pound claims against large organisations who have customers, suppliers and/or employees using systems which connect directly and/or indirectly (and in some instances to a very limited degree) into the IT suppliers' software. Software under licensing disputes (and related claims concerning alleged indirect use and/or indirect access to systems), can therefore arise in all businesses, across all sectors – particularly those organisations with large IT systems.
We have resolved many such disputes and continue to assist clients in substantially reducing/eliminating these claims. We acted on the leading case in this area (SAP UK Limited v Diageo Great Britain Limited [2017] EWHC 189 (TCC)).
Find out more
All you need to know about Procurement Reform
The Procurement Act has gained Royal Assent and is expected to become law in October 2024. It represents the most significant shake-up to procurement law and practice for a generation.
Our hub brings together in one place key resources and our insights on this crucial development.
Read our insights