Harness the power of data. Embrace the future of retail.
In a sector that works at breakneck speed, our team brings decades of experience to help you navigate the complexities of compliance and keep pace with the ever-changing regulatory regimes. But more than that, we always bring a practical, commercial mindset, helping you seize opportunities now – and far into the future.
Find out more...
Product Distribution – A Digital Picture
Piecing together the jigsaw puzzle of product distribution online and offline is not easy. Add in the raft of regulatory requirements creates a challenging picture to mesh together. To help you understand the digital retail market, we have created our interactive tool to help visualise key issues in getting your product to market. Click on each of the tabs below to find out more. If you would like to discuss the below, please get in touch.

Four Themes Shaping Digital Retail



How we help clients…
In-depth experience helping retail giants working online and the supply chain that makes the digital world tick, including Boohoo Group, Asda, Microsoft, Vision Express and PZ Cussons.
Breadth of knowledge across all steps in the online journey – from payment processing and data security to employment and 5G.
A commercial mindset that's genuinely excited by the possibilities for digital retail – and what that means for the high street.
Collaboration and communication with regular meetings and a 'dashboard mentality', so we can provide the most effective support, wherever it's needed.


Key contact & further resources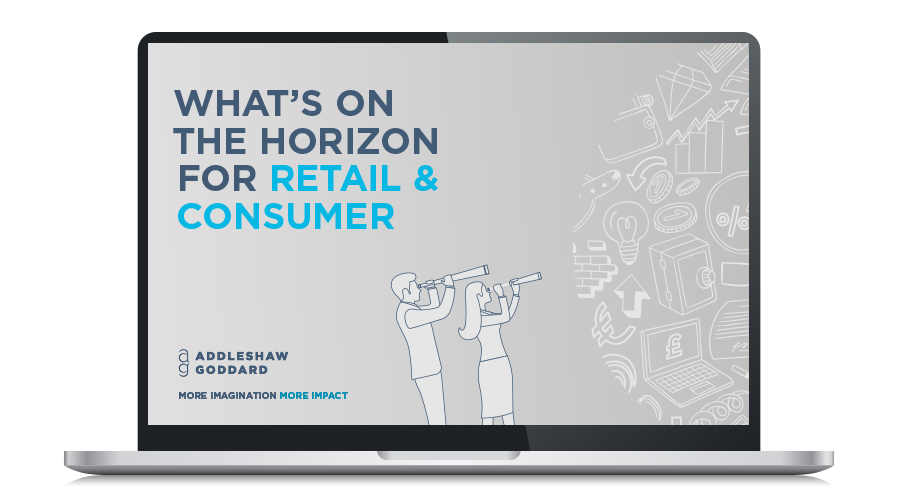 Retail & Consumer Horizon Scanner 2023
The retail and consumer sector is showing resilience despite global economic uncertainty, but what opportunities and challenges might lie ahead? Explore 70+ issues that should impact your decision making in 2023 with our latest edition of the R&C Horizon Scanner.
ACCESS THE HORIZON SCANNER