Expertise
Simon is a senior member of the Technology & Outsourcing team and Head of the Advanced Manufacturing Group. He is account manager for a FTSE 100 multinational client. He has experience of advising and negotiating (often involving parallel negotiations): IT and business process outsourcing agreements, both single source contracts and multiple supplier environments (including design, development and procurement of technology; software licensing and distribution); e-commerce agreements, website terms of use and privacy policies; technology acquisitions; Intellectual Property exploitation (including protection, enforcement and transacting); general commercial agreements,including distribution, agency, logistics, sponsorship and supply agreements.
Simon has been on secondment to AEGON UK Plc, Lloyds Banking Group, Aviva Plc and Rolls-Royce Plc.
Experience
advised a FTSE-100 multinational on (1) global outsourcing of its key technology services, involving individual master services agreements supported by multiple local services agreements for individual jurisdictions; (2) third generation outsourcing of calibration and measurement services; (3) outsourcing of the supply chain management for the provision of fluids and oils used in the manufacturing process
advised a FTSE-100 multinational on (1) the development and procurement of pioneering technology for the manufacture of component parts; (2) capital equipment purchases; and (3) various business critical disputes in connection with the manufacture of component parts (including advice on research and development agreements, in particular ownership and licensing of arising IP in both the component part and operating software)
advised a FTSE-100 multinational on: (1) its global agreements with its insurance brokers and claims handling service providers; (2) its company car fleet agreement
advised a FTSE-100 multinational on the separation of its global Energy business following its £1bn divestment
advised various FTSE-100 businesses on the outsourcing of global data centre services and on the installation and hosting of a major global SAP system at tier 3 data centre facilities
advised a FTSE-100 business on a 2nd generation outsourcing of warehousing and logistics services
advised a FTSE-100 outsourcing specialist on various acquisitions in the outsourcing sector
advised a specialist IT services and support business in relation to (i) an agreement with for the provision of a fully-integrated business management solution and systems integration; and (ii) an agreement with a third party for the resale of software and certain IT solutions
advised a specialist drinks packaging business on a co-packaging agreement with a FTSE soft drinks business.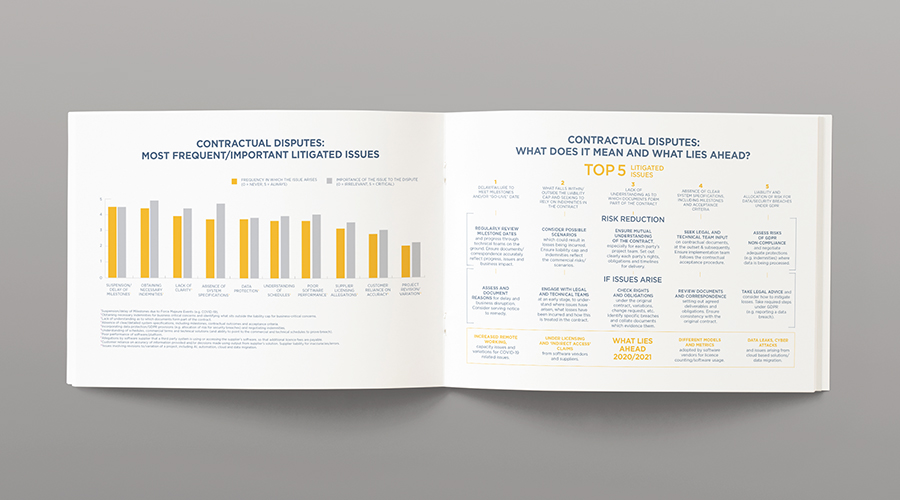 Software under licensing
We have seen several of the major IT suppliers seeking to make multi million pound claims against large organisations who have customers, suppliers and/or employees using systems which connect directly and/or indirectly (and in some instances to a very limited degree) into the IT suppliers' software. Software under licensing disputes (and related claims concerning alleged indirect use and/or indirect access to systems), can therefore arise in all businesses, across all sectors – particularly those organisations with large IT systems.
We have resolved many such disputes and continue to assist clients in substantially reducing/eliminating these claims. We acted on the leading case in this area (SAP UK Limited v Diageo Great Britain Limited [2017] EWHC 189 (TCC)).
Find out more