Combination delivers stronger client and sector offerings across the whole of the UK
---
The merger between international law firm Addleshaw Goddard and Scottish practice HBJ Gateley has completed today (1 June 2017), with new growth opportunities already secured for the combined firm.
A driving force behind the merger was the opportunity to deliver stronger UK-wide client and sector offerings in response to increasing client demand for advisers with a capability on both sides of the Anglo-Scottish border.
In recent weeks the enlarged firm has secured new mandates as well as extended appointments from new and existing clients, including Celesio, the international pharmaceuticals business, which has appointed AG as its preferred law firm on all Scottish Real Estate matters following a competitive tender. AG has been a longstanding advisor to Celesio, but this is the first time it has been invited to advise in relation to Scottish real estate matters.
The successful team was led by Edinburgh-based real estate partner, Miles Ede, and Leeds-based Simon Kamstra, a senior litigation partner and relationship partner for Celesio, whose brand portfolio includes LloydsPharmacy, and AAH Pharmaceuticals.
The merger sees HBJ Gateley's entire Scottish practice fully integrate into the international firm and become known in Scotland as Addleshaw Goddard.
New offices in Edinburgh, Glasgow and Aberdeen will build on the firm's leading position in the City, Leeds and Manchester, alongside its growing presence in Hong Kong, Singapore, Dubai, Doha, and Muscat.
As a result of the extended footprint and specialist expertise, growth is expected in a number of industry sectors, particularly real estate, financial services and energy.
It is expected the combined firm's improved bench strength will see it ranked 19th in the UK by total income (c£224m)* and 15th by UK income (£214m)*. The combined firm will have more than 240 partners and 1,100 lawyers.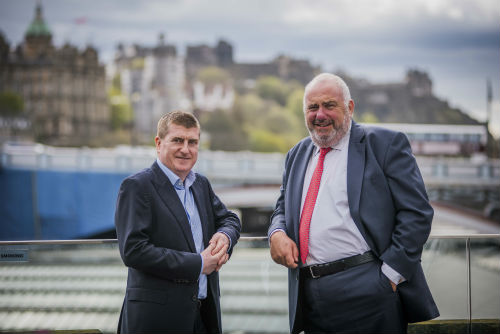 John Joyce, Addleshaw Goddard Managing Partner, said: "From our very first conversations, it has been important to ensure we had not just the right commercial fit, but a complementary focus on delivering excellent results for our clients and our people. The clear fit between the culture and chemistry of both firms is really evident, as well as a shared ambition to grow the enlarged business by building on our collective expertise across key industries.
"The feedback we've had from clients so far has been very encouraging, and we are already starting to see the benefits of a combined, UK-wide approach."
Malcolm McPherson, former HBJ Senior Partner, who joins the Board of Addleshaw Goddard alongside his role as Senior Partner for Scotland, said: "There are realistic and exciting opportunities for marked growth through our ambition to deliver market-leading advice. The next few years will present many challenges and opportunities for businesses based or doing business in Scotland, so it's crucial we have the appropriate reach and expertise to meet their requirements."
Four HBJ Gateley partners have joined the executive team leading Addleshaw Goddard's four operating divisions: David Kirchin (Corporate & Commercial), Alan Shanks (Finance & Projects), Simon Catto (Litigation) and Miles Ede (Real Estate).
ENDS
*based on each firm's 30 April 2015/16 year-end figures
Notes to editors
Contacts
Christian Collinson, Addleshaw Goddard, 07775 586 572
Phil Addicott, The BIG Partnership, 07824 666956