The billion-pound Airport City Manchester development is building on strong links forged during a visit by the Chinese President by heading to China to drive investment from the Far East into the North West.
---
The Airport City delegation led by Lynda Shillaw visited China's capital Beijing, along with Shanghai, the international commercial centre of China, to hold meetings with the Manchester envoy network established by the Manchester China Forum, including industry leaders in China's financial, business and manufacturing hubs.
Airport City Manchester also launched Connect, a unique new business concierge service designed to bring inward investment into Airport City and to ensure companies which relocate to Manchester have all the tools they need to both grow their business and for employees to get the most out of life in the North West.
Lynda Shillaw, MAG Property CEO, said: "We've had really strong interest in Airport City Manchester since President Xi's visit and we're thrilled to be able to build on those relationships and that momentum with this visit and the launch of Connect.
"This is the first major infrastructure project in the UK with the involvement of a Chinese company as an equity partner and is proving to be one of the best examples of how a new wave of Chinese investment is transforming infrastructure and development in the UK.
"Airport City Manchester, and the wider Northern Powerhouse, are helping the UK to build a new era of cooperation between East and West, and we're thrilled with the high levels of interest and enquiries we're receiving from firms in China either looking to establish or to relocate a base within the UK."
Airport City Connect, available online exclusively to Airport City occupiers, will provide help and advice to international firms on business and lifestyle issues, through partners Deloitte, Eversheds and Addleshaw Goddard, who are specialists in the financial and legal sectors and covers areas such as corporate and employment law, business structuring, payroll and employer compliance, global mobility consulting, grant incentives, import and export duty, general tax guidance and cash management.
Connect Life, which is more tailored to employees and their families, will outline the best places to eat, drink and shop within the region, provide advice on schools, how to set up bill payment accounts without a UK credit history and how to apply for a driving licence.
Airport City is a unique joint venture development between Manchester Airports Group (MAG), Beijing Construction Engineering Group International (BCEGI), Carillion PLC and the Greater Manchester Pension Fund (GMPF).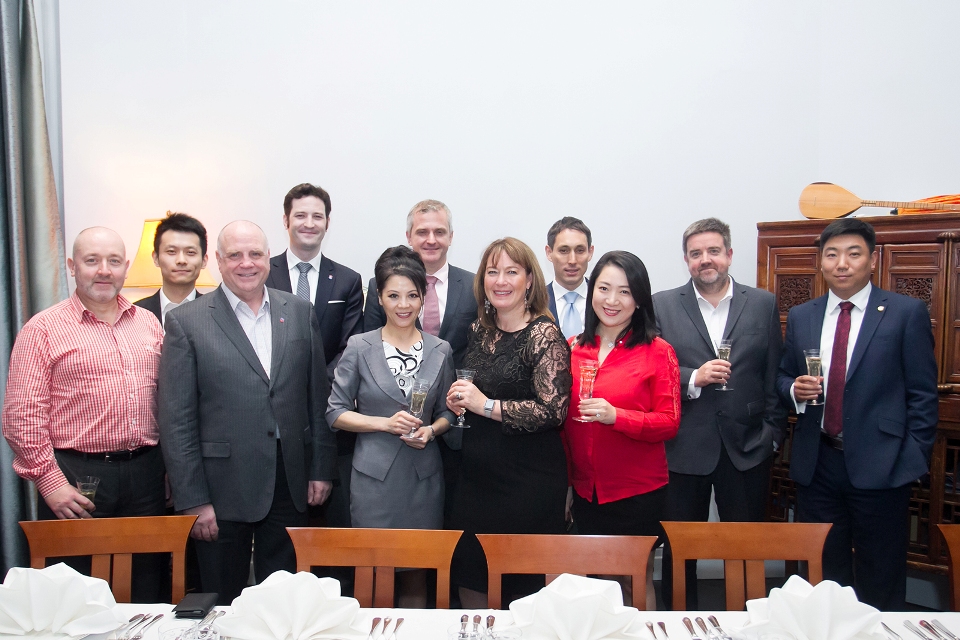 Rhys Whalley, Executive Director, Manchester China Forum said: "We have worked extensively with Airport City Manchester following the establishment of the Manchester China Forum. The Forum; established three years ago to help set in place the foundations for long-term relations with China, has overseen tremendous progress in route connectivity, Manchester's profile in China as well as investment into the region. President Xi's visit to Airport City last year has further underlined the development's significance as a flagship example of UK-China collaboration in infrastructure.
"Today's Connect announcement is another welcome move that will continue to boost Airport City's offering to Chinese companies and serves as another example of Manchester's commitment to working hand-in-hand with Chinese companies as they grow in the UK market."
During the week-long visit, Airport City attended a number of high-profile events including with John Edwards, UK Consul General Shanghai, the British Chamber of Commerce, UKTI and advanced manufacturing expert Dr Mark Wareing at the British Embassy.
The collaboration between China and the UK was highlighted when Airport City welcomed President Xi, along with David Cameron, to launch the development's £130million China Cluster as well as announcing the first ever direct scheduled service between Manchester and Beijing, which is due to start during June with Hainan Airlines, providing the only direct connection outside of London.
Made up of the Wuhan Square and Shenzhen Gardens districts, the China Cluster will ensure Airport City offers an ideal base for ambitious Chinese companies, providing a platform from which they can access opportunities throughout the UK, Europe and beyond.
Jo Ahmed, Partner at Deloitte, said: "The Connect business platform is a new and exciting technology offering that enables prospective tenants of Airport City the opportunity to gather knowledge from some of the region's leading professional services firms to ensure smooth establishment of their business and showcases the rounded support businesses can expect to receive when they choose Airport City as their business destination."
Simon Masters, Head of Manchester Corporate at international law firm Eversheds describes Connect Business as a practical and accessible tool for new businesses.
He said: "Firms looking at investing in the Northern Powerhouse want to know how to save time and money, how to manage business risks, and how to open up new opportunities both professionally and personally; that's where Connect Business and Connect Life come in."
Mike O'Connor, Partner at Addleshaw Goddard, said: "There's incredible momentum building around the potential benefits for both China and Britain of securing greater investment into the North West. Britain's government has prioritized the delivery of major infrastructure and of large scale regeneration projects. Ensuring potential business have on-the-ground support around day-to-day legal and governance issues can hopefully smooth the way for more companies to invest by making it easier for them."