There are numerous factors to consider when deciding the most suitable form of hotel operation. The third party hotel operator (TPO) or "white label" hotel operator is a model that is well established in the US and is gaining more traction throughout EMEA.
---
The model is partly behind the accelerated growth of the franchised hotel brand. It has the benefit of allowing hotel investors to run hotels with an experienced operator under the flag of a global brand.
A TPO is a service provider that is appointed by a hotel owner to manage the hotel. TPOs allow hotel investors to franchise a hotel brand where TPOs manage the hotel in accordance with the franchise agreement and they are also suitable to manage independent (unbranded) hotels. TPOs are a commercially attractive alternative to the traditional forms of hotel operation. TPOs are particularly suitable for the following types of hotel investor:
with limited hotel operational experience;
who own small, focused-service or mid-market hotels, especially those which are in secondary markets; and
who have a strained relationship with their hotel operator under a traditional management contract where the brand is working for the hotel and there is an opportunity to flip to a franchise.
Download the full bulletin in PDF format to view the table that provides a brief overview and comparison of the different traditional forms of hotel operation.
There are many combinations of operating models we can recommend once we have established an investor's short, medium and long term objectives.
"Michels and Taylor has grown as a TPO, driven mainly through the client relationships of our Consultancy and Asset Management businesses. Having 28 hotels currently managed under a variety of brands – Marriott, Choice Hotels, IHG, Best Western and Hilton – a key advantage to the hotel investor of an independent TPO is to be able to optimise performance from the respective brand systems, coupled with the ability to compare delivery and initiatives between the brands to further challenge performance.
With 40% of the portfolio operating independent of a brand, there is also the expertise and knowledge within Michels & Taylor of how to drive performance through channel management, marketing initiatives and marketing consortia. This breadth of experience helps all hotels including branded hotels."
Peter Hales, Managing Director Managed Hotels at Michels & Taylor
With major hotel chains focusing on franchising as a means of accelerated growth, both hotel chains and investors need to ensure that the operation of hotels are left in capable hands. Hotel management experience is crucial for a hotel to be successful - all hotels, whether large or small, whether budget, focused service or luxury, require strong and expert management. TPOs bring many benefits to both hotel investors and also to hotel chains:
Increased investment opportunities for hotel investors
Historically, hotel investors without any (or with limited) hotel operational experience who wanted a brand over the door, had to rely on the traditional management contract with a hotel chain. As the large hotel chains strive to grow their global footprint, their hotel operational resources have become stretched and their focus is on the upscale segment of the market and the smaller regional and focused service hotels do not receive the same attention.
Hotel investors can now grow their portfolio (whether on a branded or independent basis) and appoint a TPO in new destinations; from luxury hotels in primary City centre locations to budget hotels in secondary locations which need focused management and a significant level of control over operating expenses. This should help spur budget, focused and mid-market hotel development in markets, especially in secondary locations within markets such as Dubai and Qatar, which are over-saturated with luxury and high-end hotels.
Accelerated growth of franchised hotel brands - benefits to hotel chains
TPOs are not a competitor to hotel chains – they are complimentary. TPOs are proactively being given leads by hotel chains who want to franchise to hotel investors, without any hotel operational experience, in secondary markets. TPOs will help spur the growth of franchised hotels for the following reasons:
With TPOs assuming the role of the expert hotel manager, hotel brands can concentrate on delivery of the brand whilst knowing that their franchised hotels are in safe hands of the TPOs who are pushed by the hotel chains to act exactly pursuant to brand standards.
Franchising started at the economy/focused service end of the market with hotel brands being reluctant to leave their high-end and luxury brands in the hands of hotel investors – with TPOs being caretakers of high-end and luxury brands, hotel chains can be more thorough in their enforcement of brand standards with the TPOs. Consequently, franchising is moving up the high-end/ luxury end of the market enabling high end/luxury brands to grow. For example, Conrad by Hilton, Ritz-Carlton and Four Seasons are now all franchised luxury hotel brands. HEI Hotels & Resorts, a TPO based in the U.S. manages only 62 hotels in the U.S. although it managed revenues over US$1.6 billion in 2016. The properties it manages include high-end brands such as Le Meridien (in Dallas, San Francisco, Cambridge and Philadelphia), Sheraton (in Austin, Music City, Pentagon and North Houston) and several Marriott and Hyatt branded hotels.
Hotel chains can now franchise to hotel investors with limited hotels operational experience with the certainty that the hotel will be efficiently run under a TPO.
Hotel brands can now be franchised to investors with hotels in secondary markets. For example, Aleph Hospitality (one of the first TPOs to launch in Dubai) manages a number of hotels throughout Africa, including the Monrovia in Liberia (Liberia's first internationally branded hotel) and Days Hotel & Suites Dakar in Senegal.
Soft brands are also expanding at a rapid pace through franchising, especially throughout the U.S. and Europe into previously untapped markets. (Soft brands are hotel brands associated to independent hotels enabling a hotel to benefit from the franchisor's global distribution network and marketing whilst the soft brand allows the hotel some flexibility in the hotel having its own, individual look and feel.) Examples of soft brands include Marriott's Autograph Collection, Ascent Collection by Choice Hotels and Best Western's Premier Collection. In contrast to the soft brands, the traditional hard brands dis-incentivised hotel investors who may have had to spend significant capex to bring the hotel up to brand standards (to ensure uniform guest experiences across every hotel with the same brand). With hotel chains expanding their brands and finding new opportunities, the TPO can again, "fill the gap" and help accelerate the growth of soft brands and hard brands.
Flexibility in contracting arrangements
There is increased flexibility with TPOs who tend to be extremely flexible and agile in their ability to negotiate bespoke terms which suit both the hotel investor and the TPO. For example, we have negotiated bespoke TPO management contracts on behalf of many of our hotel investor clients, as follows:
Involvement in hotel operations
Hotel investors can be involved in the hotel's daily operations, marketing and staff recruitment. Compare this to the traditional management agreement with hotel chain operators who typically do not permit any investor involvement (save for approval of the annual budget and recruitment of the GM) and who may accuse hotel investors of breach of contract for attempting to be involved in hotel operations.
Operating term
The operating term of an agreement with a TPO can be as little as one year. Compare this to the traditional management agreement where the operating term is typically for between 15 to 20 years and for as long as 50 years, at the luxury end of the market.
Performance tests
Enforceable and sensible performance tests can be included in agreements with TPOs where the TPO fails to meet an agreed performance criteria. Although hotel operators under the traditional management contract may include performance tests, these are often two pronged and are virtually impossible to terminate.
Fees
TPOs typically take more of a vested stake in a business than traditional operators where the interests of the TPOs and hotel investors are aligned through performance-related remuneration structures. TPOs take a significantly lower base management fee based on GOP typically between 1.5% to 3%, with the majority of their fee being comprised in incentives fees which is based upon AGOP, typically between 5% to 8%. Compare this to hotel chains whose base fee is typically between 2% to 4% of GOP and incentive fees, which is typically between 6% to 10% of AGOP. We have negotiated scaled incentive fees based on the level of AGOP margins which are achieved by the TPO – this fee structure rewards the TPO for a more efficient performance and incentivises the TPO to control operating expenses.
TPOs' overheads are lower than hotel chains' overheads
Although hotel investors who franchise a hotel brand pay franchise (and other fees) to the hotel chain and also a second fee to the TPO, collectively the fees are typically cheaper than appointing a hotel chain operator under a management agreement.
Hotel investors have been migrating over to TPOs as the hotel chains' operational costs and central overheads increase which are passed onto investors. TPOs have lower overheads than hotel chains and are able to control their costs. With TPOs concentrating on improving the bottom line, lower management costs being paid to TPOs (and where applicable, franchise fees to hotel chains) and with performance related remuneration structures, the potential ROI to the hotel investor has the potential to be significantly increased.
Franchising a hotel brand and appointment of a TPO
TPOs provide a tried-and-tested route to hotel investors without any hotel operational experience to securing franchises as they can be a trusted intermediary. It has been reported that securing an appropriate brand on a hotel can increase RevPAR by as much as 21%.
By securing a brand through a franchise and also by securing a TPO, this method of hotel ownership offers investors an opportunity to brand and outsource management to an experienced TPO who is focused on driving profitability. The hotel investor can benefit from all the pros of franchising from a hotel chain and also benefits from the TPO's hotel management expertise.
Appointment of a TPO for independent hotels
TPOs are also making an impact in the higher end of the market, on luxury unbranded properties. As travellers move away from all inclusive holidays for more intimate properties, with their own distinct brand, authentic independence and flavour, hotel investors do not need to rely on the acquisition or franchising of a brand to differentiate their properties and build their reputation. By engaging TPOs, hotel investors can maintain their hotel's individuality whilst the TPO provides them with flexible management at a cost which is significantly less than that offered by hotel chains (and without franchising any brand) through the traditional management contract. Issues within distribution can be alleviated through effective international and local marketing and distribution through OTAs.
TPOs are loyal to investors
Peter Hales has commended "The key focus of our management team is the investor return and delivering their objectives whether these be the operational style of the hotel, cashflow, property development or the exit goal."
Hotel chains are typically loyal to the brand and to hotel guests – this is where their priorities lie. Consequently, hotel chains strive to present their brands in the best light possible at the cost of the hotel investor. TPOs, on the other hand, are loyal to the hotel investor and their priority is to achieve the most profitable operation for the hotel investor, as is possible.
The TPO concept is well established in the US where hotels of all shapes and sizes are appointed for their hands-on approach, operational expertise, to improve guest experiences and overall hotel performance.
TPOs are not for everyone. The appointment of a hotel chain operator may be best suited to a hotel in a key city centre location, or where the hotel is reliant on conferencing business or group business. There are numerous factors to consider when deciding on which form of hotel operation is best for a hotel and there is certainly no "one-size fits all" concept of hotel operation. Certainly in the short term, the growth of hotel franchising looks set to continue and the proliferation of the TPO is set to continue Eastwards...
Download the full CHECK-IN with AG bulletin in PDF format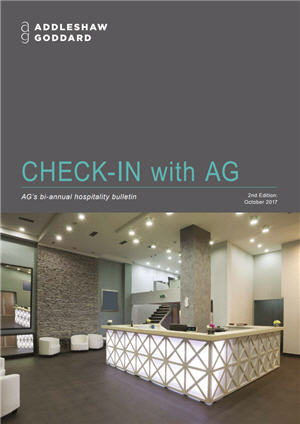 If you have any comments or queries, please get in touch.