Included in this issue of the Corporate Crime & Investigations Update: "Paradise Papers" revealed by media outlets; HSBC close accounts linked to Gupta's due to corruption investigation; UK cryptocurrency hit by cyber-attack and more.
---
General
"Paradise Papers" revealed by media outlets
Millions of documents giving insight into the use of offshore accounts and tax havens have been published, with numerous media outlets reporting on the information contained within them.
Though much of the behaviour revealed is not criminal, a number of the allegations raised concern the fact that individuals were exploiting the secrecy typical of offshore accounts to hide improper relationships, dealings and possible tax evasion. Firms will need to consider these issues and their money laundering reporting obligations.
Bribery and Corruption
HSBC close accounts linked to Gupta's due to corruption investigation
HSBC has admitted concerns about its involvement in the South Africa corruption scandal surrounding the Gupta family and President Jacob Zuma, and have thus closed accounts linked to the family while investigations take place. The bank had previously declined to comment on any ties, but revealed that following "new information" they had closed accounts for associated front companies of the Gupta family.
Leaked reports alleged that HSBC accounts in Dubai were used to channel millions of dollars via companies with links to expensive Chinese rail contracts selling locomotives to South Africa.
The Guardian, 10 November 2017
Dozens detained in Saudi anti-corruption purge
A number of princes, ministers, businessmen and other high-ranking officials in Saudi Arabia have been detained, following the creation of an anti-corruption committee by the Saudi King Salman.
The committee is chaired by the King's son, Crown Prince Mohammed bin Salman, and the purge is seen by many as an attempt by the Saudi heir to consolidate his power. Amongst those detained are powerful rivals such as billionaire investor Prince Alwaleed bin Talal who is accused of having extorted officials, and Prince Miteb bin Abdullah, who was removed from leading the Saudi National Guard on accusations of awarding billion dollar contracts to his own companies.
Money Laundering
Transparency International condemns UK Anti-Money Laundering environment
A report published recently by Transparency International UK has identified what it thinks are a number of areas for concern in the UK's ability to tackle money laundering.
The report, "Hiding in Plain Sight", claimed the lack of background checks done on individuals before they set up a company through Companies House was of particular concern, and allowing corporate vehicles to be set up with inaccurate details. Amongst other recommendations, the report suggests that obligatory due diligence should be carried out on those setting up companies, and further steps should be taken to verify information included on the Persons of Significant Control register.
Transparency International, 9 November 2017
Cyber Crime
UK cryptocurrency hit by cyber-attack
Electroneum, a cryptocurrency start-up based in Maidstone, has been hit by a DDoS cyber-attack which prevented many investors from accessing their accounts for a number of days. Electroneum had previously raised £30 million in an Initial Coin Offering (ICO), and the company claims 140,000 individuals hold Electroneum tokens.
As cryptocurrencies have become popular with a wider audience, they have become a target for hackers. In October, the ICO of a new rival to Bitcoin suffered a DDoS attack within minutes of launching.
Russian hackers targeted British media, telecoms and energy companies, says NCSS
The head of the UK's National Cyber Security Centre has confirmed that Russian hackers have sought to attach British media, telecoms and energy companies over the last year. Ciaran Martin, the founder and head of the NCSC, did not provide any further details of attacks, but accused Russia of "seeking to undermine the international system. That much is clear."
The announcement follows PM Theresa May's comments towards Russia warning them to stop interfering in democracies in an attempt to damage the "commitment of western nations to the alliance that bind us".
The Guardian, 15 November 2017
Sanctions
US tightens sanctions on Cuba
The Trump administration has introduced new sanctions on Cuba which restrict travel and trade with the country. The sanctions ban US citizens from dealing with 180 Cuban entities and make it more difficult for them to travel there. US citizens may now only travel to the island nation on certain authorized trips with a US organization, accompanied by a US representative.
The move re-introduces many of the sanctions which had been lifted by the Obama administration in 2016. However, diplomatic ties between the countries remain open.
US say North Korea is hurting from sanctions
The US Secretary of State, Rex Tillerson, has said that both the US and China are starting to see certain signs that sanctions on North Korea are "creating some stress within North Korea's economy". However, the North Korean ambassador to the UN has said the "inhumane sanctions" are "[threatening] the protection and promotion of our women's rights and even the right to survival of the children".
North Korea has been subjected to a swathe of sanctions over the last few months in response to its repeated missile tests and a perceived advancement in its nuclear capabilities.
New EU sanctions against Venezuela
The EU has published legislation this week introducing targeted sanctions against Venezuela, following concerns over human rights and freedoms following recent elections. The sanctions will have two primary aspects: (1) extensive export restrictions on any arms, equipment and technology, or the financing thereof, that may be intended for internal repression or public monitoring by the Venezuelan regime; and (2) a framework for controls comprising of travel bans and asset freezes, to be applied to persons within the regime responsible for human rights violations, repression of democracy or undermining the rule of law.
The EU has not yet designated any individuals or entities that will be subject to the sanctions, but will publish and update a list following regular review until 14 November 2018.
Tax
HSBC agree to pay €300m to settle tax evasion investigations
HSBC has agreed to settle its long running investigation into tax evasion by French clients, by paying €300m (£266m) to French authorities. The French financial prosecutor's office accused HSBC's private banking arm of helping its clients to evade tax. While the settlement will settle the claim against the bank, two former directors – Peter Braunwalder and Judah Elmaleh – could still yet face legal action.
It is believed more than €1.6bn of assets were involved in the tax scheme, with investigations into the scheme starting in 2014 after a former IT employee leaked thousands of customers' stolen data.
Environmental
North east man fined thousands of pounds for waste fire
A Cleveland farmer has been ordered to pay £4,899.44 after an Environment Agency investigation into waste crime. The farmer had illegally stored and set fire to controlled waste on his land at Holdensfield Farm, Yarm, in December 2016. Footage from the helicopter crew showed the fire was unattended and included materials such as uPVC door and window frames, wood, wheelie bins and shower trays over an area of 50 metres sq. The court heard how the fire was only 200m away from a housing estate and two busy A roads.
Charles Roderick Pickering, aged 71, was charged with two waste offences at Teesside Magistrate's Court on 10 November 2017. He admitted both allegations and was fined £3,000 with £1,729.44 costs and £170 victim surcharge.
Health and Safety
Two companies fined £150,000 following crush fatality
Two companies have been fined following an incident in which a worker died from crush injuries. On 31 May 2013, John Wallace, an employee of Ontime Automotive Ltd, was jet washing a twin deck vehicle at the company's base when the upper deck collapsed, trapping him between the decks.
The HSE investigation found that the vehicle recovery equipment was poorly designed by a company called J&J Conversions Ltd. The upper deck was only stable in its raised position if secured by two powered locking pins. J&J Conversions Ltd had been aware of this issue, as a similar incident had occurred previously, and had not remedied it.
J&J Conversions Ltd pleaded guilty to breaching Section 6(1) of the Health and Safety at Work etc Act 1974 and was fined £100,000 and ordered to pay full costs of £9,490. Ontime Automotive Ltd was found guilty of breaching Section 2(1) of the Health and Safety at Work etc Act 1974 and were fined £50,000 and ordered to pay costs of £50,000.
Recycling company fined £880k for machinery death
A recycling company has been fined £880,000, and two people have been given suspended prison sentences, after an agency worker was killed when he was drawn into machinery.
Karlis Pavasars, working at Mid–UK Recycling Limited when he was killed while cleaning near a conveyor. The recycling line was started up and the worker was drawn onto the conveyor and into an industrial waste shredder.
The HSE investigation into the accident, which occurred on 19 July 2013, found that the fixed gate that fenced the area off and prevented access to the conveyor had been removed for a number of weeks prior to the incident and that Management were aware that the gate was not in place just days before the incident.
Mid-UK Recycling Ltd has been fined £880,000 and ordered to pay costs of £100,000. Christopher Mountain, Managing Director, was given a 20 week prison sentence suspended for two years and fined £50,000, whilst Alan Munson, former Operations Director, was given a 20 week prison sentence suspended for two years.
Wood waste company fined £216,000 following fatality
Paul Littlewood was killed when he fell four meters from a walking floor trailer at R Plevin & Sons while he un-sheeted a trailer. The trailer access to the work platform was protected by a single manually fastened wire rope. The rope is normally fastened to a vertical post with a carabiner. At the time of the incident, which took place on 30 June 2014, the wire rope was hanging loose and the access point was unprotected.
The HSE investigation found that R Plevin & Sons Ltd had not carried out a suitable and sufficient assessment for sheeting and un-sheeting trailers. No automatic sheeting was used and the protection provided was inadequate to protect workers from the risk of falls.
R Plevin & Sons Ltd was fined £216,000 and ordered to pay costs of £31,266.54.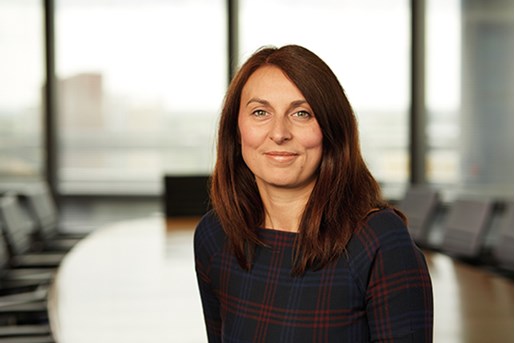 Erin Shoesmith
Partner, Health & Safety United Kingdom
View profile