The British Retail Consortium announced today that 2018 was the worst Christmas in a decade for retailers. This comes on the back of a year of a number of high profile retail insolvencies across the UK high street.
---
Rising operational costs, soaring business rates, fierce competition and the growth of online shopping, has seen many retailers face an avalanche of pressures, sadly forcing many to partake in extended discounting in an attempt to keep shops open, drive footfall and push sales in a bid to continue to carve out profit.
With consumers now expecting these heavily discounted sales from as early as November, it's unsurprising that many retailers have released poor 2018 Christmas trading figures, leading some to adjust their store portfolios or close due to difficult trading periods.
With the likes of HMV already entering administration, many more retailers are likely to follow in 2019 following poor Christmas trading.
With much to tackle in the year ahead, retailers must continue to forward plan, researching new customer trends and changes in shopping habits and identifying their most competitive customer offerings. This forward planning, alongside reviewing of cash flows and early engagement between landlords and lenders is essential for retailers as they strive to keep the shutters open, adopt rigid cost structures and ultimately avoid insolvency.
At Addleshaw Goddard we have a strong portfolio of credentials in the Retail & Consumer sector, advising stakeholders, retailers and brand owners on complex restructuring / insolvency cases, distressed real estate work and acting for corporate clients on distressed acquisitions.
A selection of some of our recent retail deals include: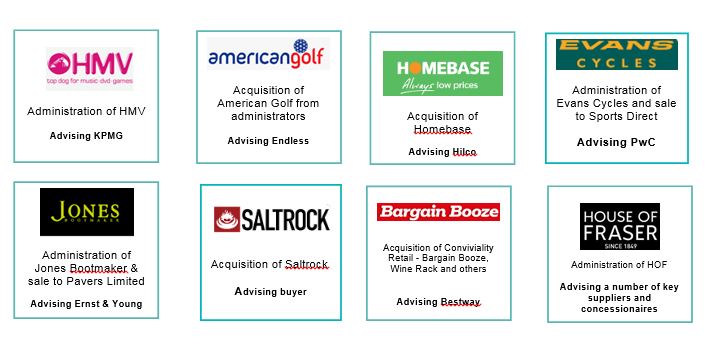 The AG Retail & Consumer Business Support & Restructuring Team includes: Ged Barnes, Andy Bates, Alison Goldthorp, Fraser Ritson, Jamie McIntosh.