Addleshaw Goddard's panel event on the impact of 5G on Real Estate
---
The advent of 5G has the potential to transform the UK, and global, economy to a level of disruption previously unseen. It could finally make the Internet of Things a reality. It will create new jobs, if not whole new industries, and radically change many existing ones. One of the primary areas to be affected will be the many facets of real estate. Which is why Addleshaw Goddard has launched its report - OM5G: The Impact on Real Estate, following a lively panel debate with industry experts at the Leadenhall Building, in London this week.
Hosted by Addleshaw Goddard's project lead for 5G, Andy McVeigh, and chaired by the Financial Times Chief Corporate Correspondent, Dan Thomas, the event featured experts including Belinda Fawcett, General Counsel and Director of Property and Estates at CTIL, Matthew Howett, Founder and Principal Analyst at Assembly, Ellie Jukes, Senior Investment Manager at Legal & General Capital Cities Team, Greg McCall, Managing Director, Converged Services Platform at BT, and Ted Orf, Co-Founder and Investor at Revolt Ventures.
"It would take you six to eight hours to download an HD film by 3G, it would take you one to two minutes to do it by 4G; it will take you one to two seconds doing it in 5G. It's real time information."

"The difference between 3G and 4G saw the rise of AirBnB, Amazon and Uber, so just imagine what 5G could do."

"5G is the fourth utility and, increasingly, a buildings connectivity is going to have a direct and material impact on its sales and investment value."

"5G is a network for devices rather than network for people."

"A future city is one that's enabled in terms of people, places and products."

"Convergence still isn't fully understood in terms of how some devices talk to others but this will improve, especially as some of the bigger providers are dealing with both. The aim is a fully converged, seamless experience."

Our panel event highlighted that not many people use 5G. Even in a tech-savvy audience of industry leaders only two audience members did. This is partly because Apple has yet to produce a 5G-enabled phone (so those that do are using android) and very few broader consumers know about it. Feedback has been positive with the initial roll outs - EE is currently in about 14 cities, and will be in 25 cities and towns by the end of 2019.

Although this is a network that is still very much in its infancy, the vision is bedded down - to encourage people to visualise what they can do with the technology, think about how cities will look and transform, and then encourage others to make the switch. The end case for 5G is about connecting everything that can be connected. Telecoms companies are actively looking for commercial partners to bring 5G to enterprise to ensure 5G will become a reality much faster.

They nearly all start with infrastructure. Without the infrastructure there is no network and getting there means a lot of negotiation. The new Electronic Communications Code gives mobile network operators statutory rights to install equipment on buildings in order to run their networks. Issues have previously arisen over access and rents. Confusion over interpretation of the legislation on all sides has led to disputes that often end up in a tribunal, which means years of delay, further protracted by appeals to higher courts. Landlords are aware they need the connectivity 5G offers in order to attract tenants. So a solution lies in developing a partnership, with operators and landlords working together to facilitate the huge amount of investment needed for the UK to become a global leader in 5G and remain competitive.

This is about the transformation of the cities of the future – whether that's commercial property, future workspaces or homes. The current demand for good broadband demonstrates how vital connectivity can become. It's now seen as a utility, a fundamental human right. Consequently, there are returns to be made. The challenge is that it will take time to realise the cash yields from infrastructure investment, which is why there are some disincentives to widespread investor capital at the moment. But already we are seeing increasing demand for smart buildings. Commercial properties with obsolete technology will fall behind so there is a real opportunity for investor capital to partner strategically with real estate, as long as they can make the case for why this will demonstrate clear value.

The potential is huge. Preventative maintenance, for example, could save enormous amounts of money. Integrating monitoring with building management could mean huge savings on electricity. This also dovetails with the increasing focus on sustainability and demand for elimination of waste and saving energy. Once you can demonstrate the added value that connectivity will bring to real estate it is likely that demand will sharply increase.

Internet coverage is arguably a political issue, but national broadband strategies currently focus on the fixed element, which is clearly important as the backbone of connectivity. The real impetus at the moment is more at a local level. The 5G test bed in the West Midlands (WM5G) is a great example of collaboration, with the government partnering with local authorities, who have offered up assets in order to build the 5G network, as well as mobile operators and businesses to make full and faster 5G roll out a reality. This mirrors similar initiatives around the world.

The key now is to build on case studies like this to demonstrate the benefits.

5G has the potential to transform commercial and residential real estate. It has the potential to form a keystone of a community, to facilitate different ways of interaction, and this has knock-on effects on education, where schools can hold new types of events, or on shopping centres and community centres. Some segments of the retail market have really embraced the benefits of a better level of connectivity - a few years ago, virtual changing rooms became a reality. So some are using this as a lever to push forward the experiential retailing trend that we're seeing at the moment.

With regards to the high street, 5G cannot alone "save the high street," and although it won't be a silver bullet, arguably it will be a very important element in the toolkit of the changing shape of it.

We are going to increasingly incorporate the technology into ways in which we interact, we're going to have more purpose to go to community centres, to go to the local high street, to go to the retailers and experience different things, because we're going to increasingly crave that.

Healthcare will also see significant opportunities. The future could see a "virtual ambulance" where doctors, from hospital, can see a patient and advise before they even arrive. We could see people saving lives over 5G. But this cannot happen without coverage.

Effective communication and collaboration. It will take a lot of both to successfully align technology providers and real estate owners in order to fully realise the potential benefits. The real estate market has only comparatively recently embraced real estate and construction technology as a concept. But now people are increasingly looking for more flexible approaches to integrating such tech – both within buildings themselves and in terms of understanding consumer demand.

The issue is that take-up is still quite fragmented, even despite some big institutions holding big real estate portfolios. But that institutionalisation means there is potentially the option of scaling up the technology in time. And when this involves integrating concepts like Artificial Intelligence and machine learning this creates tremendous opportunities because they require data to learn from - and the more data the better. But once 5G is omnipresent it will be possible to start seeing the transformational benefits that are currently just dreams, like using a small sensor to drive a vehicle from one side of the country to the other.

It is absolutely key to aim for as many deals as possible to be done consensually, and for tribunal battles to be a last resort. The real estate sector is still quite disparate in some ways, with a number of different kinds of landlord, whether that's rural or industrial, and all of them have their own challenges. Even if progress seems slow, it must be remembered that two years ago we would not have envisaged a scenario with mobile network operators sitting in a room with numerous different local authorities, discussing how they can work together to deliver connectivity. This is exactly what is happening in the West Midlands right now.

Mobile operators should educate more, explaining the benefits and the options, and landlords need to tell them what's not working and what they need, so they can work together to overcome challenges. All concerns should be addressed, including health and safety. A lot of the challenges are, ironically, down to communication. What is obvious is that a forum between all parties would be beneficial to enable these discussions and arrive at mutually beneficial solutions, so the UK can be a 5G world leader.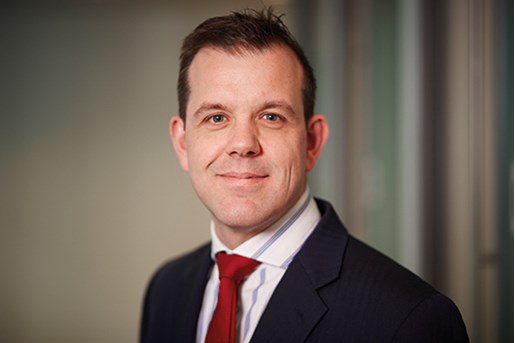 Andrew McVeigh
Partner, Head of London Construction and Co-Head of Real Estate Sector
London, UK
View profile