5G is here - are you ready?
5G has the potential to create a fully connected, fully automated society and make the Internet of Things a reality. But most UK businesses do not realise the potential it could bring.
The ambition with our OM5G report has been to consider different spheres within the real estate universe and some of the likely consequences within cities. Engaging industry-leading researchers to interview some of the leading players, we have spent five months looking into how offices, retail, residential and industrial real estate could be impacted.
In this report, we've spoken to more than 80 business leaders and are extremely grateful for their time and honesty. Understanding how companies like Canary Wharf, Grosvenor, Ted Baker, WiredScore and Moda Living are all innovating in their respective fields is exciting. And hearing from the major infrastructure providers, such as BT, Wireless Infrastructure Group, Cornerstone and Cellnex has provided a valuable perspective on everything.
If you would like to find out more about this report, please get in touch >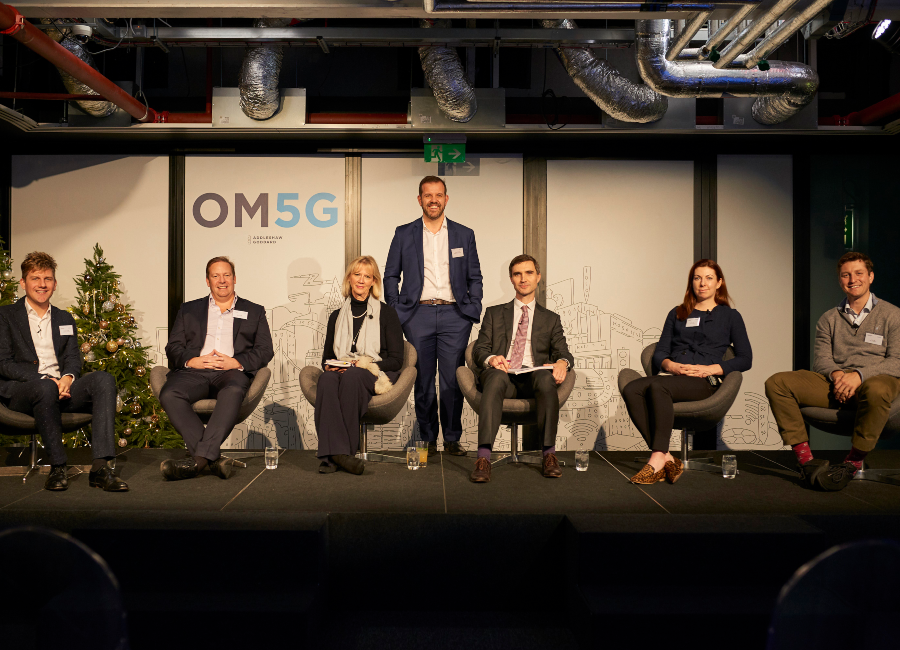 Key Takeaways from our panel event
How close are we to 5G as a reality? What are the issues inhibiting roll-out? What will attract this investment? What will it mean for buildings? How can governments assist with implementation? What could this mean for communities? What else is needed? So how can it be driven forward?
Find out
5G in numbers
In 2018
17.8 billion
Connected devices globally in 2018
By 2025
34 billion
Predicted connected devices by 2025
Latency
1 ms
1 millisecond latency of 5G
Speed
100
Times faster than current mobile technology
Cost
£30bn
Cost of installing full fibre across UK
Coverage
4%
Area of UK with full fibre connections
Savings
£27bn
Saving from mobile operators sharing towers
Sharing
£24bn
Capital released if half of European towers were shared
Pension funds and insurers
£47tn
Held by pension funds and insurers, estimated by World Bank
Infrastructure
70%
Institutions planning to increase allocations to infrastructure
Real estate
32%
Expect to boost their allocations to real estate
Investment
£101bn
Estimated institutional global infrastructure investment
Get in touch
Enter your details to find out more about the report OM5G: The impact on Real Estate
Key Contact