Becoming a Trusted Adviser is often a significant element of the consulting and coaching support we provide to in-house legal teams. As a topic it seems to endure one in-house conference season to the next…sometimes promising new insights and approaches ('Business Partner', anyone?) that fail to live up to the hype.
---
So, let's get back to basics. In the context of a corporate legal department, what is a Trusted Adviser and how do you become one?
The answer, based on our research with General Counsel and our ongoing work with in-house teams, is that it is highly subjective term that is largely measured by the emotions of your key stakeholders.
The consistent message we hear from General Counsel is that they are seeking to develop teams of proactive, commercial, broader advisers that the business values, actively seeks for advice and involves early in key matters. The individuals in these teams are able to build strong relationships, understand risk and are comfortable in the commercial application of the law to help create value for the business.
Almost all GCs recognise that while core 'legal technical' competence is important, it is the individual's commercial, consultancy and leadership capability that truly makes the difference.
In broad terms then, the 'Trusted Adviser' is often expected to:
Understand the needs of key stakeholders by being proactive, aware and interested
Engage and be engaging through the delivery of legal expertise combined with commercial acumen
Deliver consistently high-quality work with a track record of fulfilling expectations and delivering on promises made
Challenge individuals and the business by tackling difficult topics and agendas
The 'Trusted Adviser Loop' is seen by many to be an effective operating model: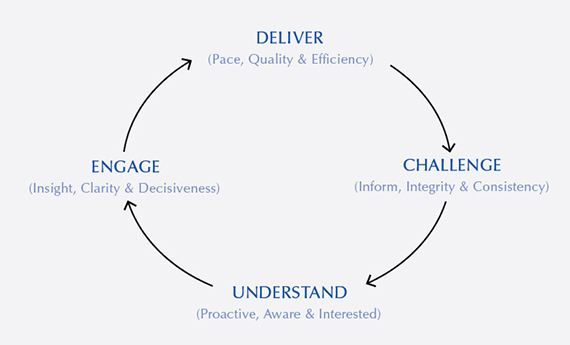 So what practical steps can you take to ensure you are perceived as a trusted adviser?
Get to know more about the business. Talk to key stakeholders, including customers and suppliers, and understand their value drivers. Demonstrate how the work you are doing contributes to and aligns with those values
Be realistic about what you can, and what you cannot, deliver, and when you can deliver it. Make sure you deliver what you have promised
Always follow up on your advice to stakeholders. Show that you care about the outcomes for the business. Ask if they need any further help from you. Ask for feedback. Do this consistently
Offer advice and insight on issues which fall outside the purely legal sphere. Do this selectively and cautiously at first. As your relationship evolves, and your confidence increases, you may find that your input on wider issues is sought more and more often
Try to develop a personal chemistry with your key stakeholders and managers. Again, small steps are the order of the day here. A busy CEO may not appreciate a sudden barrage of enquiries about family or invitations to drinks after work
Finally, don't force it. Remember that building trust takes time and effort, and you will not succeed with everyone. But keep working at it and you may be surprised.
What would you add to our practical tips for being perceived as a Trusted Adviser? Let me know and we will share in a future post.