Expertise
Fiona is a Partner at Addleshaw Goddard specialising in complex Commercial, Technology, Payment and FinTech arrangements. Her practice focuses on guiding clients through large scale disruption, business transformation and strategic risk management, particularly in the intersection between regulation and technology. Fiona is one of The Lawyer's 2020 Hot 100 recognising her contribution in these fields.
Fiona sits on the Lexis Nexis Consulting Editorial Board for Commercial Law and the editorial board of the journal, Payments & FinTech Lawyer.
She is listed in Who's Who Legal (2021) as a Global Thought Leader in Fintech Law, Innovate Finance's Women in FinTech Powerlist (2019), a leading Commercial, Payments & FinTech lawyer in both Chambers & Partners and Legal 500 (2019) and as a Leading Individual in Commercial Contracts and Fintech in Legal 500 (2022).
Fiona heads AG's FinTech Group, acting for financial institutions and FinTechs in bringing new payment solutions, including Apple Pay, Samsung Pay and Android Pay, to market.
Fiona is a leader in her field on strategic alliances and joint ventures including from an array of financial services, FinTech to electric vehicles, acting for both suppliers and customers across a range of industries including automotive, retail and financial services. She is currently acting as lead counsel on the largest strategic alliance globally.
During the course of 2019 - 2020, Fiona has acted on the following key matters:
advising VW AG on one of the largest strategic alliances in the world with Ford Motor Company for the development and supply of light commercial vehicles and electric vehicles in over 170 markets globally;
advising a major financial institution on the procurement and strategic structuring of the build from scratch of a banking platform with a chain of Fintechs, card scheme, payment processing and other providers;
advising and mentoring a number of fintechs (including Bink and Halotrade) and financial institutions on Fintech strategy, procurement, acquisition and deployment in the areas of consumer finance, block chain, asset management and trade finance.
Her expertise also includes outsourcing and other complex commercial arrangements. She leads in strategic advisory work, multi-jurisdictional business process outsourcings (back and middle office) platform integration, facilities management and global administrative services for multinational corporations, banks, asset managers and global insurers. She also advises in the field of payment services relating to digital and mobile payment solutions, payment aggregation and merchant acquiry both in the UK, US and further afield.
Fiona is a regular speaker at international conference events on Commercial, Technology Disruption and FinTech.
French - good command

Bengali - fluent

Member of Bar, England and Wales

Member of Law Society, England and Wales

"Fiona Ghosh deserves recognition for her comprehensive work in the fintech sector, with a particular focus on digital payments" – Legal500 2022
"Fiona Ghosh- fantastic in managing all her lawyers and delivering a coordinated package.'" – Legal500 2022
Fiona Ghosh of Addleshaw Goddard "understands the focus on effective legal risk management and brings innovative solutions to issues" praise sources, who add she is "a highly effective and impressive negotiator". Who's Who Legal 2021
Fiona Ghosh is widely regarded by interviewees as a leading figure in the payments services space. Ghosh is a commercial lawyer and has been instrumental in taking new payment solutions to market for a variety of major financial institutions. One interviewee enthuses: "Fiona is absolutely fantastic, highly respected and someone I've introduced to a lot of my clients. She's brilliant in everything I've dealt with her on. The expertise Fiona has is amazing." Chambers and Partners 2020
"Addleshaw Goddard's Fiona Ghosh is a "leading lawyer in this field" and "incredibly dynamic with an extremely deep understanding of the banking industry". She is acclaimed for her "very impressive negotiations", her ability to "keep matters simple" and her "phenomenal grasp on how best to negotiate and contract to support agile programmes with fintech clients". Who's Who Legal - Fintech 2020
"very sensible and knowledgeable" practitioner. According to clients, "she has a clear view of the legal aspects, the practical application of regulations and also the approach of other institutions." Chambers & Partners (2019/2020)
"Practice head Fiona Ghosh's 'tremendous business acumen complements her obvious legal expertise.'" Legal 500 (2019)
"very sensible and knowledgeable" Chambers & Partners (2019)
"Fintech expert Fiona Ghosh is a key name to note." Legal 500 (2019)
"Leading ranked Fintech lawyer" Chambers & Partners (2019)
"she has a clear view of the legal aspects, the practical application of regulations and also the approach of other institutions." Chambers & Partners (2019)
"looks for the tough questions clients don't think of". Legal 500 (2019)
"'An excellent lawyer' who is highly sought after thanks to her expansive technical knowledge." Who's Who Legal (2018)
"Fiona Ghosh's payments and commercial contract experience comes highly praised." Chambers & Partners (2018) (Professional Advisers: FinTech)
'Innovative Finance Powerlist for Women in Fintech 2017, 2018, 2019, 2020'
---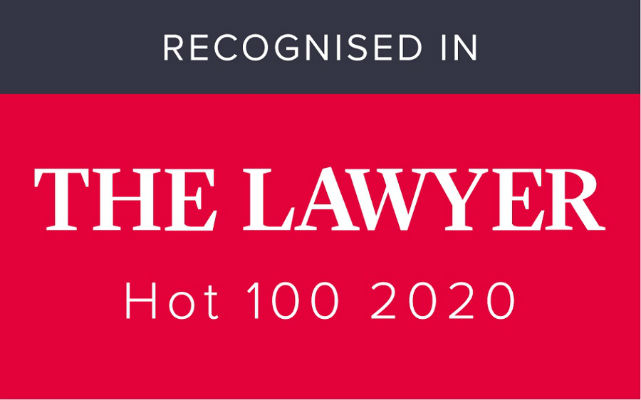 Report recognising the most "daring, innovative and creative lawyers"