Legal apprenticeship schemes
---
Paralegal Apprenticeship
Start your career in law at a top commercial law firm as a Paralegal Apprentice
The Paralegal Apprenticeship at AG is a two year programme aimed at school leavers or people wanting to pursue a career in law whilst gaining experience in a top commercial law firm. The qualification is level 4, the equivalent of the first year of an undergraduate degree, delivered by BPP University. After completion of the Paralegal Apprenticeship there are many opportunities to develop your career in law even further such as progressing on to the Solicitor Apprenticeship (with exemptions so it would take less time), qualifying as a Chartered Legal Executive or even pursuing a career in the Legal Management team managing other Paralegals.
Applications for the 2018 Paralegal Apprenticeship scheme have been closed.
Solicitor Apprenticeship
How a Solicitor Apprenticeship compares to the traditional university route to qualifying as a Solicitor?
In the past there was one main route to qualifying as a Solicitor and that was the traditional university route. To follow this route you would need to take the following steps: complete a three year law degree (universities can charge up to £9,000 per year for courses), complete your one year Legal Practice Course (LPC) (LPC fees range from £8,500 to upwards of £15,000), apply for and complete a two year Training Contract at a law firm (Training Contracts are not guaranteed to LPC students. It is similar to applying for a job.).
Solicitor Apprenticeships offer an alternative route to qualification in the same timeframe whilst providing on the job learning, experience and also avoiding costly student debt. The below shows how the two routes compare.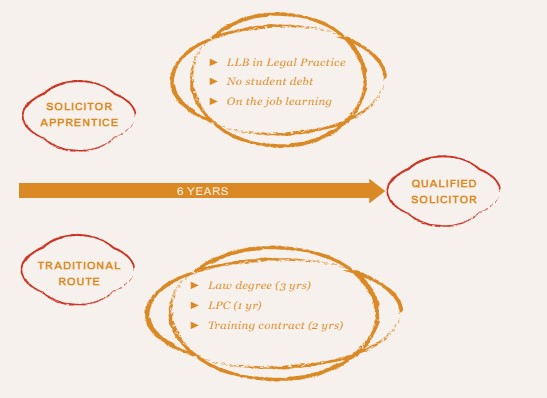 The Solicitor Apprenticeship scheme has been closed for 2018.