Imagine if...
...your law firm told you your "unfixable" business issue wasn't.
...consistently brought you solutions you didn't see coming.
...offered answers, not just options.
Now imagine if your law firm is Addleshaw Goddard.
Why put us on your next beauty parade? Three reasons
1) We never lose sight of the results you need; 2) we're creative thinkers; and 3) we deliver a service that clients return to time and again. Many have been with us for 20 years, one for over 150. They range from start-ups to more than 40 FTSE 100 companies. Every day, we help them resolve problems holding back business growth. So we understand the pressure to perform in the most challenging conditions.
Minimum Fuss. Maximum Results.
Projects, deals and disputes can be exhausting as well as exhilarating. So we do everything in our power to make your life easier. From being there when you need us to solving pivotal problems with imaginative solutions. And we'll always give you an opinion you can act on. If we think you should settle, we say settle. Fight, we say fight. Sign the contract? Or walk away? We'll tell you. It's an approach that has worked for clients as diverse as Volkswagen, The Oman Investment Corporation and David Bowie. They came to us to get things done. Minimum fuss. Maximum results.
Simple answers
Good business depends on good advice. Which, ultimately, comes down to four words. Yes. No. Stop. Go. Assuming you like that kind of simple answer, we'd be delighted to talk business. In the meantime, we hope the summary information and brief examples shown below and throughout this site provide a helpful introduction to Addleshaw Goddard.
Explore our legal specialisms, read some examples of our work and find out more about who we are and how we work.
---
First, a few facts


Remarkable clients
43 FTSE100 clients
We've acted for many of the world's most respected companies in the last two years.
Valued service
22 years
The average length of our FTSE 100 client relationships is 22 years. Clients return to us, time and again.
Proven specialists
>50 Practices
Experts in over 50 specialisms of business law.
award-winning
>45 awards
Over 45 awards and accolades for the practice and business of law in the past three years.
Bench strength
>1200 lawyers
Over 1200 lawyers around the world, including >250 partners.
Global delivery
94 Countries
We've helped clients in 94 countries in the last few years, via our 13 offices around the world.
Adaptable
>240 years
First established in 1775, the firm has adapted in line with over 240 years of client needs.
Innovation
Top 10
The Financial Times ranked us a top 10 law firm in Europe for innovation.
Technology
>2,500 clients
Over 2,500 companies have relied on our specialist tech, consultancy & innovation teams.
Unlocking Young Potential
45 activities
We are active in 45 different CSR initiatives focused on 'Unlocking Young Potential'.
Inclusivity
12 times
Named a Top 50 Employer for Women, 12 times in 14 years, by The Times.
Representative clients
Last year, around the world, we acted for: 738 Financial Services companies and Funds; 480 well-known Consumer brands and Retailers; over 800 Real Estate businesses and Investors; 200 Energy clients; over 150 Healthcare industry clients; 160 Transport sector clients; and many other remarkable clients. Just some examples include:


Imaginative solutions to pivotal business problems
Below are just a small sample of the thousands of imaginative solutions we deliver for clients each year. Click here for more >


Awards & accolades
Here are just the latest examples... See the full list here >

Heritage
Addleshaw Goddard traces its roots back to the very first public record of solicitors in the UK – the Law List – published in 1775. It has grown through amalgamation ever since, developing in line with a changing world. Open the timeline in PDF >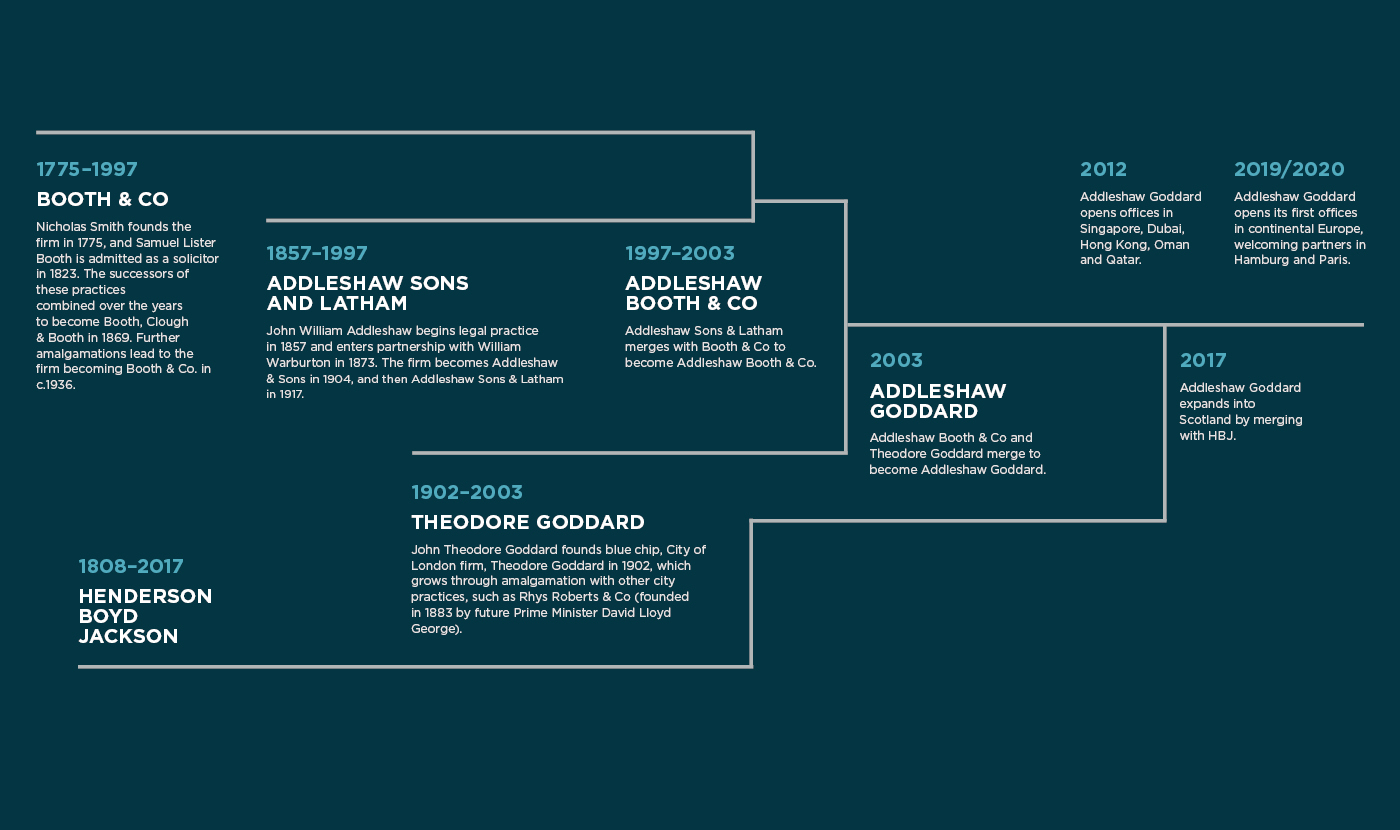 Legal specialisms
Clients rely on our specialist experience in over 50 types of business law. Explore our core practice areas: